6 more die of COVID-19 in Meghalaya, toll at 185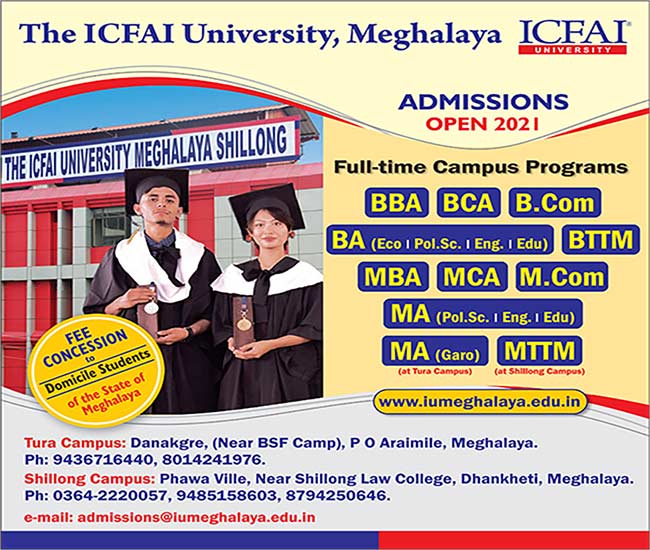 The death toll due to COVID-19 has gone up to 185, after six more persons have succumbed to the viral infection on Monday.
Seventy one-year-old Unity Lapasam of Shangpung village in West Jaintia Hills district passed away at the North Eastern Indira Gandhi Regional Institute of Health and Medical Sciences (NEIGRIHMS) on May 1, Director of Health Services (MI) Dr Aman War said.
"The cause of death was due to refractory septic shock with sepsis with multiorgan dysfunction syndrome with peritonitis due to ruptured appendix with COVID positive status and type 2 diabetes mellitus with CKD with RHD," he said.
The other five deceased patients include Phool Kumari (65) of Lapalang Shillong, Delbora Marbaniang (61) of Lummawbah, Upper Shillong, Sanku Das (57) of RR Colony, Shillong, Jolan Thapa (30) of Barapathar and Ram Bahadur Biswa (56) of Upper Shillong.
Meanwhile, the state has also recorded the highest single-day spike of 246 people tested positive, taking the total number of active cases to 1,884, while 177 have recovered from the disease, pushing up the number of recoveries to 15,606.
Dr War said the new cases include 148 in East Khasi Hills district, 41 Ri Bhoi district, 19 East Jaintia Hills district, 13 West Jaintia Hills district, 10 West Khasi Hills district, 10 South West Garo Hills district, 2 West Garo Hills district, 2 South West Khasi Hills district and 1 North Garo Hills district.
He informed that of 177patients who have recovered from the viral infection, 128 are from East Khasi Hills, 24 Ri Bhoi, 11 East Jaintia Hills, 10 West Jaintia Hills and 4 West Garo Hills.
So far, the state has detected a total of 17,675 COVID-19 cases out of which 1,884 are active cases, 15,606 recovered and 185 deaths.
With 1,205 active COVID-19 cases, East Khasi Hills, that includes state capital Shillong is the worst affected district in the state, followed by Ri Bhoi with 194 cases, 122 West Garo Hills, 101 in West Jaintia Hills, 97 East Jaintia Hills, 63 West Khasi Hills, 30 East Garo Hills, 23 South West Khasi Hills, 18 South West Garo Hills, 16 South Garo Hills and 15 in North Garo Hills.
On the other hand, of the 4,69,686 persons who have tested for COVID-19 in the state as on date, 4,52,011 were tested negative for the virus even as 413 persons are in institutional quarantine and 1,471 under home quarantine.
There are 1,15,277 entrants from outside the state.
25,397 healthcare workers had received the first dose of Covishield vaccine and 18,507 had received the second dose, while 45,348 frontline workers got the first shot of the vaccine and 24,744 got the second dose as on Monday.
Moreover, 1,70,641 persons from among the general public were vaccinated with the first dose and 18,001 were inoculated with the second dose of the vaccine against COVID-19 across the State.