Seven Village heads come together to promote River Myntdu as tourist destination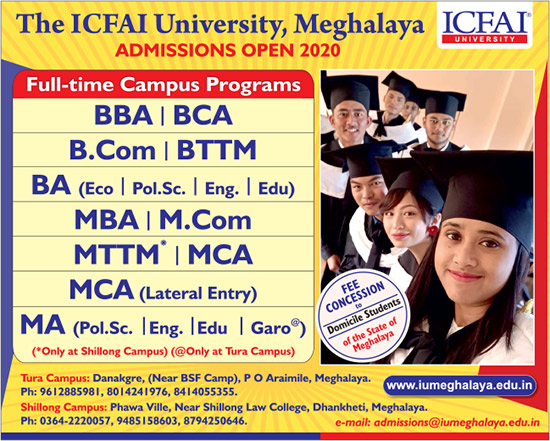 Coal mining was primarily a mode of employment and source of income for the people of Jaintia Hills region but the ban of rat-hole mining of coals in the State of Meghalaya has propelled the people to think of alternate mode to earn their livelihood. 
Blessed with scenic beauty and greenery coupled with majestic rivers, Jaintia Hills yet still lies unexplored and unvisited by many tourists both domestic and foreign due to the lack of promotion and development of tourism in the region by the local people.
Viewing tourism an alternate mode for employment and source of incomes, many people have come together to form their own respective groups for promoting tourists spots in their respective locations. The Jaintia Hills region is thus now famous for tourist spots such as Krangshuri, Shnongpdeng, Darang, Dawki and Kudengrim.
River Myntdu spreads throughout West Jaintia Hills and East Jaintia Hills is not only the lifeline of the Jaintia Hills region but also offers host of potential spots for boosting rural tourism.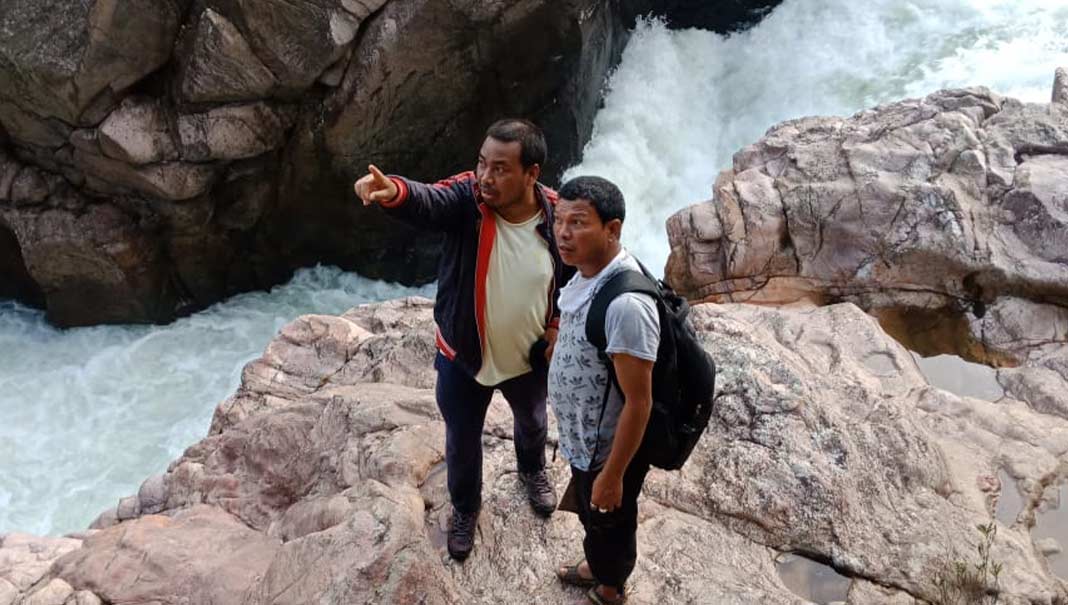 The River Myntdu passed through seven villages namely Mutong, Ialong, Tuberkmaishnong, Pynthorsale, Mukha Ialong, Chamcham and Lumchyrmit.
In order to tap this potential, the leaders of the seven villages put their head together and formed a special committee known as Par Myntdu Tourism Development Committee (PMTDC).
On July 25, last, Helping Phawa who is the Waheh Shnong, Mutong and president of PMTDC accompanied by Bishar Shylla Waheh Shnong, Ialong, Jiedlang Sana, Waheh Shnong, Tuberkmai shnong, Yooki Phawa, Waheh Shnong, Pynthorsale, Hundred Phawa,  Waheh Shnong, Mukhaialong, Luh Dkhar, Waheh Shnong, Chamcham and Riling Rasmut,  Waheh Shnong, Lumchyrmit and Secretary PMTDC Phrangki Pale conducted a trekking by the river side of Myntdu for 18 KM from Ialong village to Rynji to inspect various spots.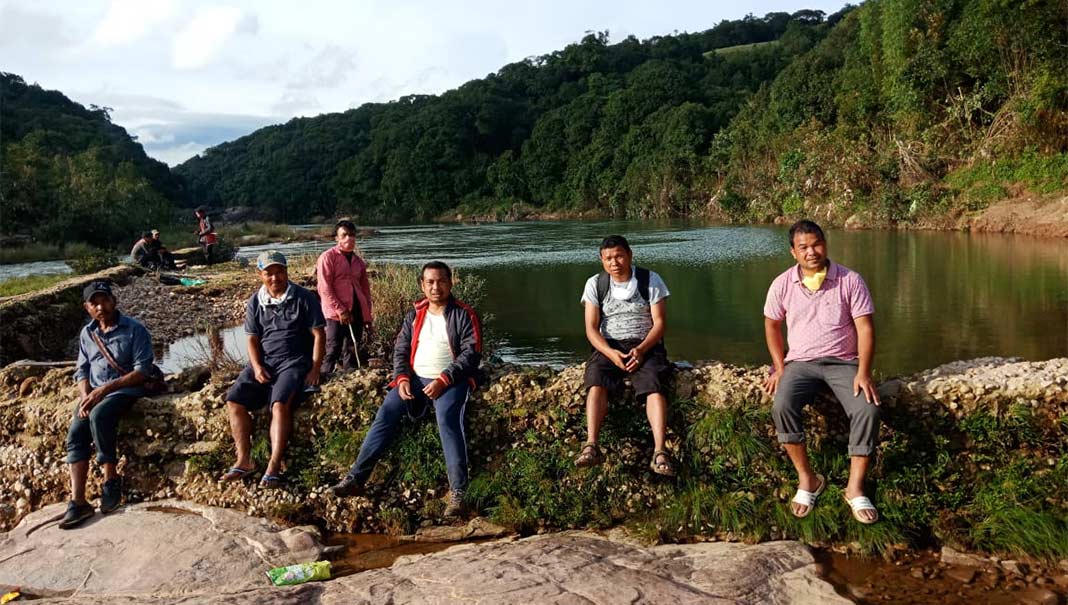 According to the president PMTDC Helping Phawa "We are excited to see our beautiful places and we are planning to develop the areas to boost rural tourism. This place is feasible for boating, trekking by the river side and in our protected forest which have variety of flora and fauna besides the waterfalls."
"We have come across many potential spots like Sahksaw to Phansyiar, Spain to Liar Muchai which is about 3.50Km and 1.50Km. Tourist who wish for boating to Rynji Water Falls they have to trek only 10 KM.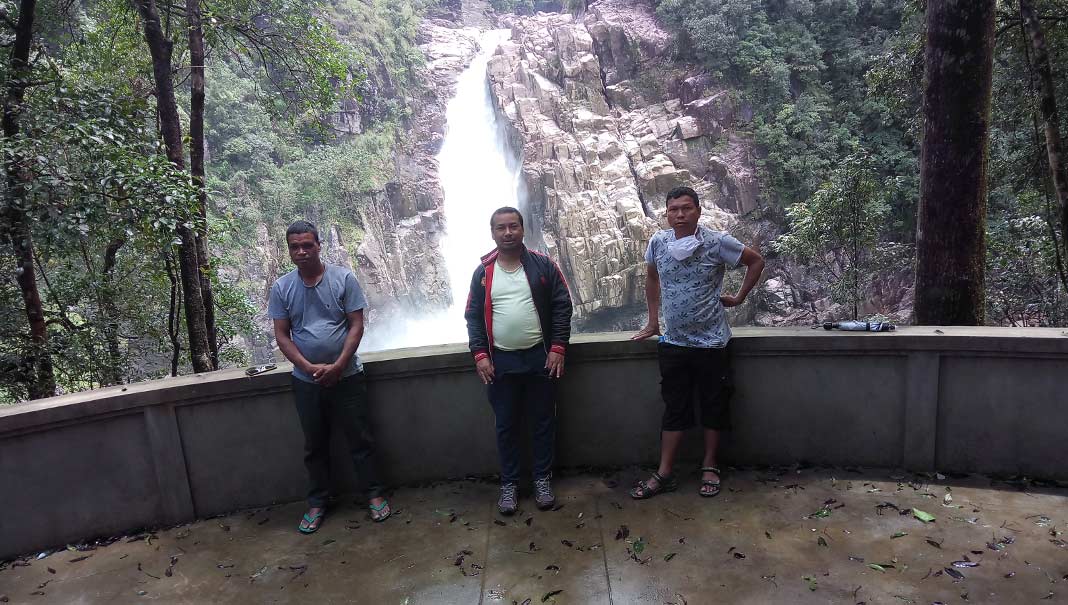 There are several waterfalls in the areas to attract local tourist and foreign such as Moopun, Latang, Urmanik, Kshaid Sahdakha and Rynji," informed Helping
The PMTDC want to add more value to this place by constructing footpath, footbridge in the river Myndtu, slab culvert to ease the tourist to go for trek in the river.
To protect the fish in Myntdu River the PMTDC has also plan convert part of the river Myntdu as Fish Sanctuary at Kuro, Sahksaw and Spain so that people can also enjoy seeing fishes in the river while they migrate.
Helping said that soon the committee will send a proposal to the government to develop the spots and many more attraction at the cost of 10 crore.
"With the ban of mining in Meghalaya, the livelihood has affected badly but to fight and enjoy living we have to develop this place to earn a good living at the same time to protect the environment," said Helping Phawa.