Workshop on promotion of ecotourism held in Mukhaialong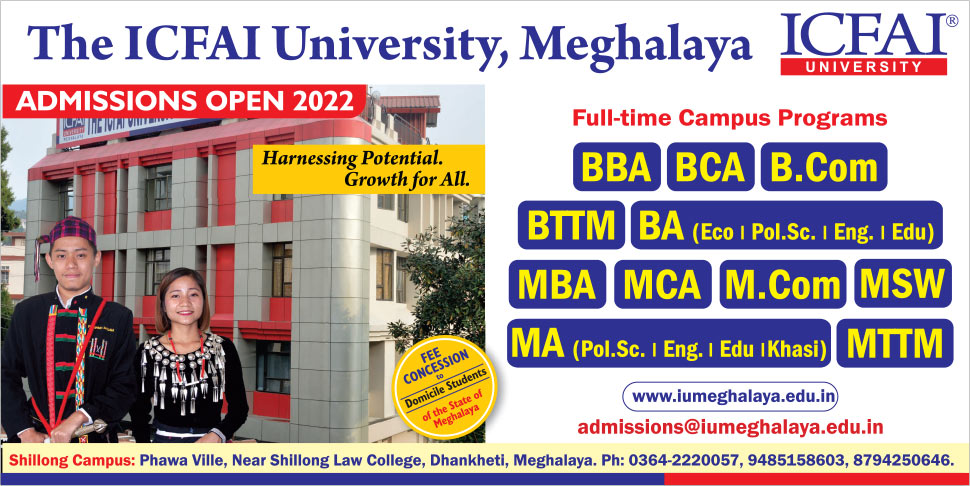 JOWAI: A two-day workshop on 'Promotion of community-based Ecotourism for forest and wildlife conservation' went underway at the remote village of Meghalaya called Mukhaialong located in the East Jaintia Hills District on 22nd & 23rd March, 2019. The programme has been jointly organized by the Office of Divisional Forest Officer, Jaintia Hills Wildlife Division (Jowai) in collaboration with Ashoka Trust for Research in Ecology and the Environment (ATREE) Bangalore along with the Waheh Chnong of Mukhaialong village where all the participants stayed during the course of the workshop.
About 60 participants from 9 villages with dense forest around them attended the workshop to learn about how to promote ecotourism in their respective villages.
The chair of the session Smt. H. Lato, Divisional Forest Officer (DFO), Jaintia Hills Wildlife Division (Jowai) introduced the chief guest Shri P.R. Marak, Chief Conservator of Forests (Wildlife), Shillong session and the and resource persons Dr. R. Ganesan and Dr. Rajkamal Goswami from Ashoka Trust for Research in Ecology and the Environment (ATREE) who came to provide technical training on how to use forest resources to attract ecotourism in Jaintia Hills. They were welcomed and felicitated by the DFO, Smt. H. Lato.
During his inaugural speech Shri P.R. Marak motivated the local communities to come ahead and protect and conserve their land and forests and see them as the large diamond mine which will enrich their lives and culture. He also emphasized that Meghalaya is blessed to have large tract of beautiful dense forest habitats outside the Protected Area Network and while minerals like coal can provide short term benefits, conserving natural forest, once sustained, can yield long -term benefits.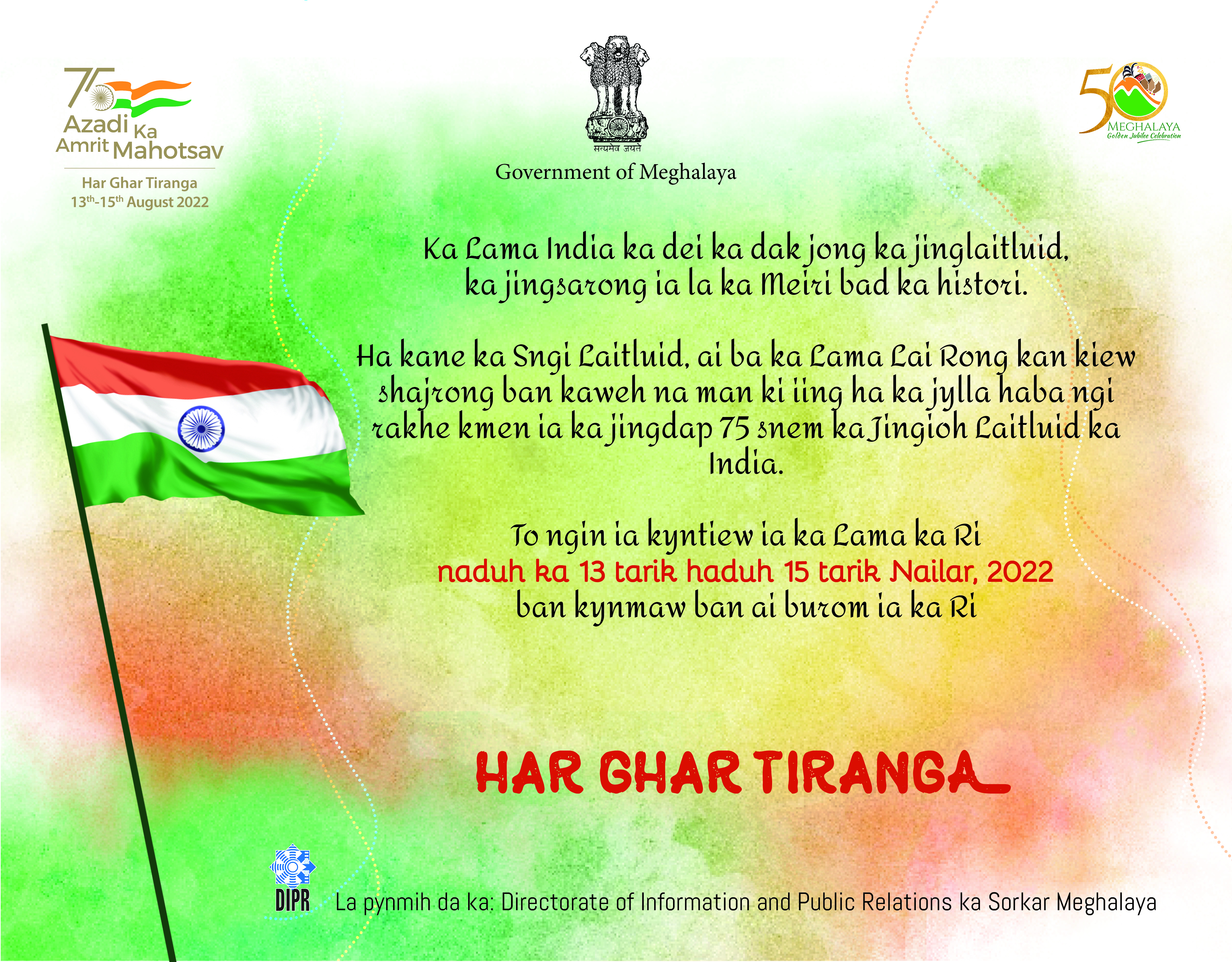 Dr. Ganesan explained how such community mobilised efforts to market the unique and highly diverse floral wealth of Jaintia Hills can help to bring tangible benefits in the form of cash income while renewing the local level interest in forest conservation. He also spoke about how Meghalaya is one of the richest areas in terms of biodiversity and went on to speak in detail on how the unique plant resources of Meghalaya can be used to attract ecotourists.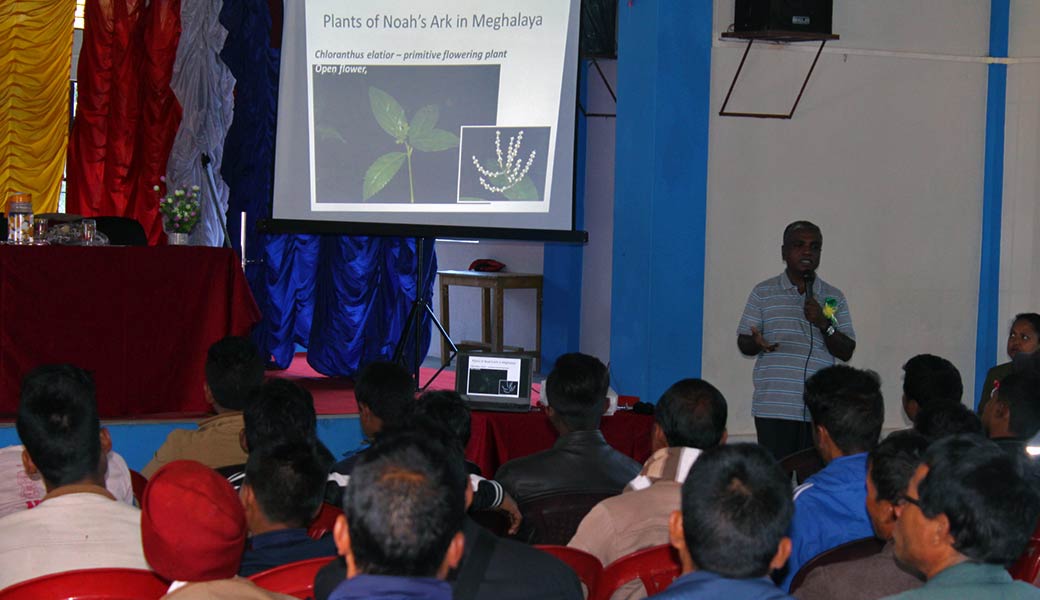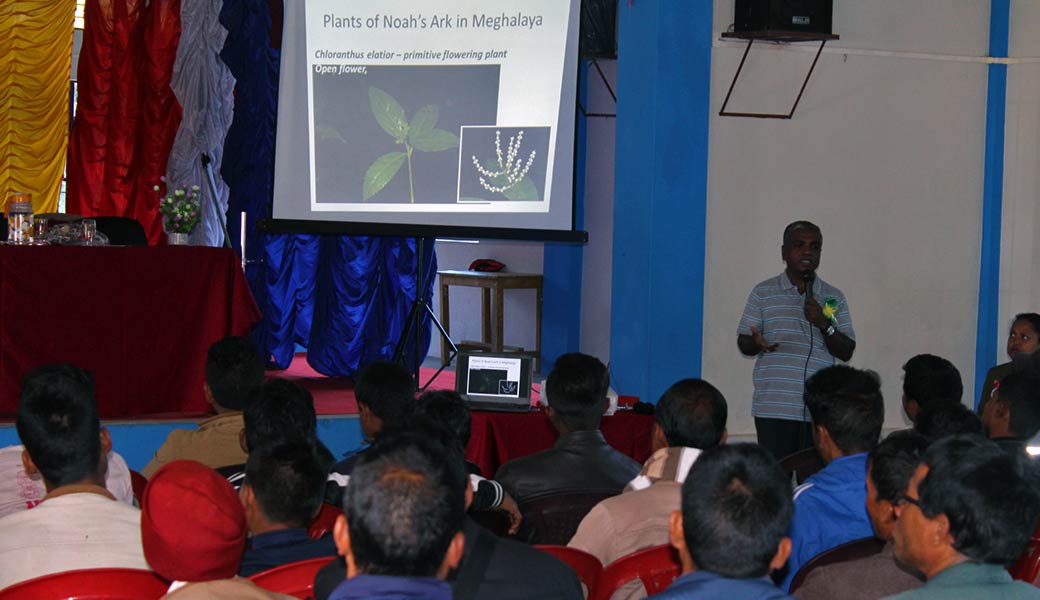 Dr. Rajkamal Goswami spoke how he has always been fascinated by Meghalaya which seems like an endless maze of beautiful forests and elusive wildlife which still continues to keep throwing new surprises. He spoke on the various sites including the wildlife sanctuary of Narpuh and the different community reserves which are spread throughout the length and breadth of Meghalaya, each of which has tremendous potential to emerge as wildlife-based ecotourism hotspots, particularly in terms of birds and butterflies. He said that the current modes of private income and livelihood linked to forest and wildlife are destructive and unsustainable. In many cases they are illegal such as income through hunting and trafficking of animals or mining for coal and limestone in forest areas and are therefore risky options. Therefore, such efforts where communities come together to explore avenues for income while conserving their forests and wildlife is significant as well as extremely critical for the sustainable future of the hotspots of Meghalaya's biodiversity and water sources.
Each of the two days, the participants were provided with exposure trips to the sacred forests of Moohchutia and Mukhaialong where Smt H. Lato, Dr. R. Ganesan and Dr. Rajkamal Goswami practically demonstrate how to spot birds and plants in a way to draw the interest of the tourists.
Apart of the these, the participants were trained in how to use local handicraft as a means of income, a lecture on the local Pnar traditions and their significance by Shri Bewil Shylla, president of Seinraij Tuber and a training session on local hospitality by Mr. D. Lato, Tourism Officer, Department of Tourism.
The two day workshop ended with a session where the participants shared their feedback on the two day workshop and prize distribution for the most active participants.