Rakhe World Food Day ka tnad kamrep ha Wahiajer
Ka ophis u District Agriculture officer, Jowai ryngkat ka jingïatreilang ka ophis u District Horticulture Officer, Research Officer Jowai, Agriculture Technology Management Agency (ATMA), Jowai bad ka Krishi Vigyan Kendra (KVK) Jaintia Hills haka 16 tarik ki la rakhe iaka sngi kaba tip kum ka 'World Food Day' halor ka phang "Growth, Nourish, Sustain together" ha Wahiajer Community Hall West Jaintia Hills District.
U kongsan u Ma Kmenlang Shylla Waheh Shnong Wahïajer haka jingkren ula ong u ong, kumba 60% na ka 100% kidei ki longkmie kiba duna bam bad man ka 5 minit ki khynnah ki ïap tang na kadaw ba kim ïoh ïaka jingbam kaba biang bad ula kyntu ïaki nongrep ban don ka mynsiem rai kut ban ïakhun pyrshah ïaka jingpang duna bam bad ha kajuh ka por u pynpaw ka jingsarong ba wat hapdeng ka jingduna ki nongrep hynrei dang biang hi ka bam ka dih.
Shuh shuh ula ong, ka jingkyrduh bam kam dei eh tang na kadaw ba duna ka bam hynrei don ki jaka ba ki briew kiba don ba em ki bret sepei ïaka jingbam bad klet ba ki para marjan kiba thiah khlem bam.

U kyrmen ba lyngba kane ka jingrakhe kan pynkynmaw ba iaki briew ymdei ban pynsepei ïaki jingbam bad bam haka rukom ban tei bad ban ioh iaka met kaba koit khiah bad ban rep ban riang na ka bynta ban ioh bam ka lawei ban wan.
Hashwa kane u Ma D. Lamar Research Officer District and Local Research Station and Laboratory Jowai, haka jingkren maitphang ula iathuh ba ïaka 'World Food Day' la rakhe man u snem ha kylleng satlak ka pyrthei ban kynmaw ïaka sngi ba seng ïaka Food & Agriculture Organization (FAO) da ka United Nation ha u snem 1945 bad napdeng ki 17 tylli ki thong jong ka UN kawei kadei ban pynlong ïaka pyrthei ka bym shah thngan shuh ne 'Zero Hunger'. Ula iathuh ba la don haduh 30 hajar jait ki jingbam bad tang 9 jait dei kiba pynkdang ia u briew.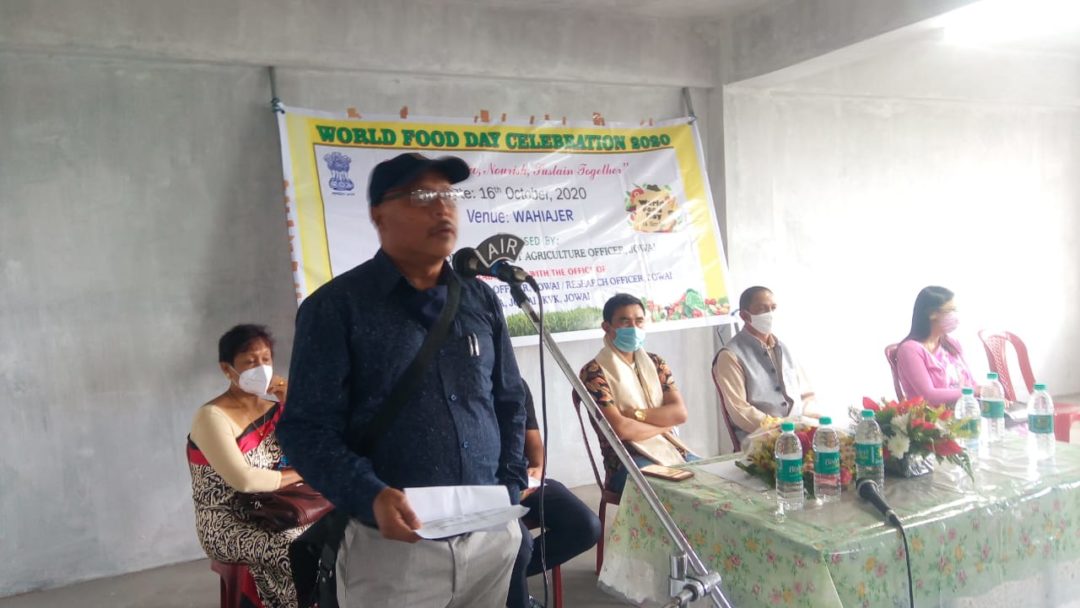 Kiwei kiba ai jingkren ki kynthup ïaka Kong L. Lakiang Project Director ATMA, Jowai, Dr D. Paswet Senior Scientist & Head KVK Jaintia Hills, Kong RK. Blah District Horticulture Officer haka jingialang kaba la pyniaid da u D. Pyrbod District Agriculture Officer WJH District bad ki kyntien khublei na u L. J Niang SDAO Amlarem.