Protocol breached in Meghalaya Govt's function in Khliehriat
In what could be viewed as a breach of protocol, the office of the District Horticulture Officer, Khliehriat today organized a Fruits and Spices Exhibition in the office campus of the District Agriculture Officer, Khliehriat. Sainara Nongbet, Director of Horticulture, Government of Meghalaya graced the function as Chief Guest and Dr. Sankey Shangpung, Chairman Jaintia Hills Autonomous District Council (JHADC) as the Guest of Honour.
While addressing on the occasion, the Chief Guest, Sainara Nongbet, Director of Horticulture, Government of Meghalaya said that agricultural activities has increased in the District in the past few years and she also encouraged the people of the District to practice Integrated Farming System which includes plantation of crops, fruits as well raising of livestock and fish farming as it will add up to their income.
Speaking on the different fruits and spices cultivated in District, she said that Khasi Mandarin is a unique variety of orange produced in the District which has also obtained a Geographical Indication. She also spoke about the Mission Value Chain Development for North Eastern Region (MOVCD- NER) a Central Sector Scheme and she informed that the District under this Scheme will be receiving two Farmers Producers Company (FPC). "The Scheme provides support to the complete value chain starting from inputs, seeds, certification, to the creation of facilities for collection, aggregation, processing, marketing and brand building initiative", she added.
She also urged the farmers of the District to find out the new methods and of farming with new agriculture technologies and to work together with District Agriculture Officer and District Horticulture Officer in the District so as to gain more knowledge on various schemes and methods on how to improve and increase the agricultural productivity.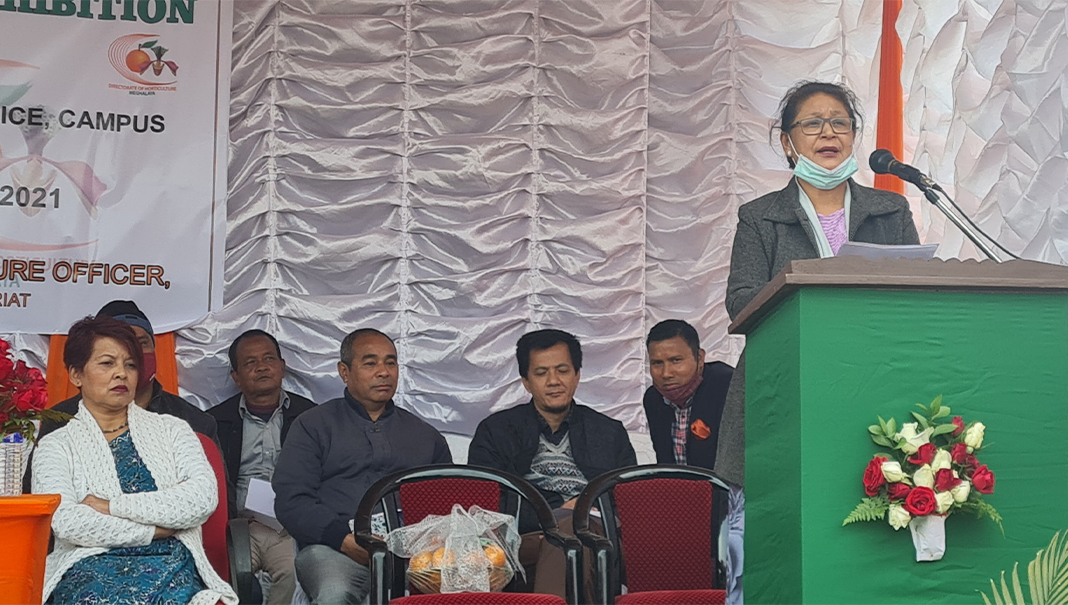 The Guest of Honour, Dr. Sankey Shangpung, Chairman, JHADC in his speech said that agriculture has become one of the main source of livelihood for the people of the district. He also praised the farmers of the District who has today produced varieties of fruits and spices that are sold in local markets and he urged the farmers to keep working hard and to increase the agricultural production as it will provide employment and boost their income.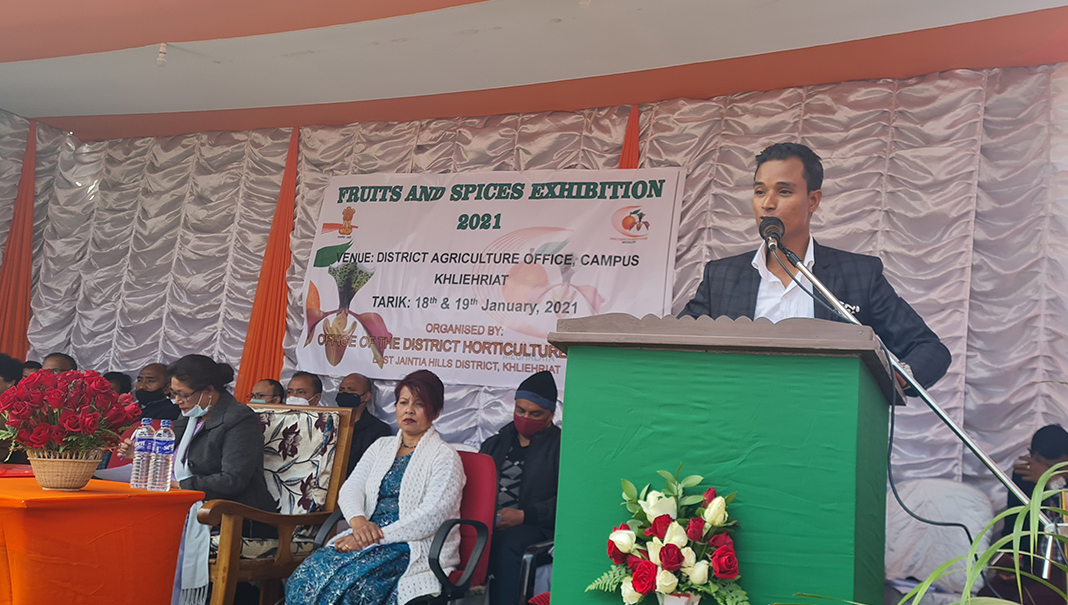 During the exhibition, Government Departments of the District and local entrepreneurs displayed the indigenous and commercial fruits and spices, vegetables, smoked fish, livestock products and flowers.
W.C. Pariat, District Horticulture Officer, East Jaintia Hill District, W. Challam, District Agriculture Officer, East Jaintia Hill District, Hubert, Kharbuki, Superintendent of Fisheries, East Jaintia Hill District, Dr. F. Langstang, Animal Husbandry and Veterinary Officer, East Jaintia Hill District and P.S Suchen, Assistant Director, Horticulture Department, East Jaintia Hill District were among others who also spoke during the function.