Prohibitory orders imposed in West Jaintia Hills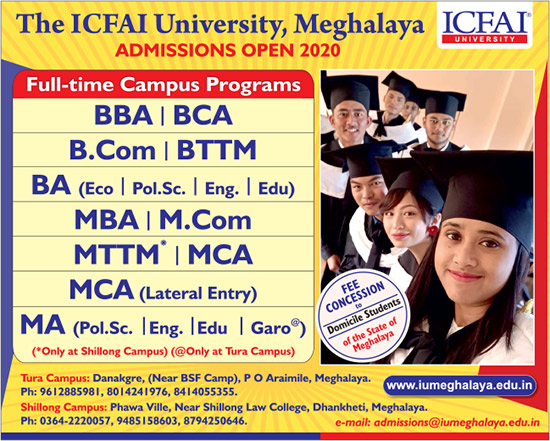 The District Magistrate, West Jaintia Hills District, Garod LSN Dykes has imposed prohibitory orders under section 144 of the CrPC in the entire West Jaintia Hills District to curb the spread of pandemic COVID-19.  
The order comes into effect from 2nd August, 2020 until further order only for timing falling between 5.00 AM to 9.00 PM each day restricting Inter-State movement of persons.
According to order any assembly whatsoever and while enforcing this, it is mandatory that every individual is to maintain a social distancing of at least Six feet, to wear a face mask and to strictly follow the various protocols and advisories of the Government.
Opening of religious places or places of worship of all faiths to the public including religious congregations is not allowed. The order also prohibits operation of tourist spots and all forms of contact sports activities.
Any gathering and congregation including social, political, entertainment academic, cultural and religious functions is prohibited.
Occupying a public place by unauthorised street vendors or hawkers is not allowed.
Movement of persons above 65 years of age, persons with co-morbidities, pregnant women and children below the age of 10years in public places is also not allowed. Every individual moving in public and workplaces should wear a face mask, should not consume liquor, pan, gutka, tobacco and spit in public places to strictly adhere to the various protocols and advisories of the Government.
The order also prohibits indulging in or resorting to the act of poisoning and use of dynamite in rivers, streams or any other water bodies with the explicit or implicit intention to cause widespread/large scale destruction of aquatic life within the District.
The District Magistrate said that the order will not apply to Out-Patient Departments (OPDs) and Medical Clinics however they are to maintain the Social Distancing norms and other safety precautions. Security Forces, Medical Teams on duty, Wholesale & Retail Pharmacies, Police and Armed Forces, Fire & Emergency Service, MeECL and Power Grid, Food & Civil Supplies Department and FCI, Jowai Municipal Board, Telecom, Communications & IT Services and Common Service Centre (CSC), Print and Electronic Media, Government Officials on Duty, Banks & Treasuries, PHE, AH & Veterinary, Agriculture & Horticulture, C&RD and Meghalaya State Pollution Control Board (MSPCB).
Senior Citizens who are above the age of 60 years are exempted from obtaining PASSES and CURFEW PASSES but they are to carry their valid photo ID card along with them as proof of age while they travel. Inter state movement of people with Interstate Transit passes issued by the Deputy Commissioner, West Jaintia Hills
The order also allows all Fair Price Shops under NFSA and NON-NFSA to open every day from2nd August, 2020 from 9.00 AM to 6.00 PM.
Commercial and private establishments allowed:
Shops dealing in Essential Goods and other standalone (single shop), Hardware stores, Stationery Shops, Shoe Shops, Dry Clean shops, Textile Shops, Kitchen Utensils shops, Household Electronics, Automobile showrooms, Fishing goods, Toys, School items, Umbrella, Rain Coat, Tarpaulin, Torchlight, Teer Counter, Dry Fish or processed fish including tungtap and smoke fish identified by the concerned headman of the localities and Lay-bye Market at Ialong are allowed to open from Monday to Saturday from 9.00 AM to 6.00 PM.
Courier services for essential goods, E-Commerce operations in Essential Goods and Home Delivery for Books.
Workshops for repair of trucks on highways and maintenance of vehicles in rural areas identified by Headmen of the area and Workshops for maintenance of Vehicles within Jowai Municipal area identified by the District Transport Officer, West Jaintia Hills District, Jowai, Stand-alone Automobiles Repairing Shops for repairing works of vehicles and Mobile Car Repairing Services consisting of a driver and 2 technicians or mechanics.
Shops that sell, repair and service Mobile Phone, Computer, Accessories as well as Mobile Phone Recharging Centre identified by respective Headmen are also allowed to open.
Tea Stall in Rural Areas under C&RD Block Amlarem, Thadlaskein and Laskein identified by the respective Headmen are allowed to open from 9.00 AM to 6.00 PM from Monday to Saturday. However, all Tea Stalls located along the National Highways in Rural Areas are not allowed to open
Operation of Private office establishment with 33% employee strength, Standalone shopping Malls are allowed to open from Monday to Saturday from 9.00 Am to 6.00 PM
Barber shops, salons and beauty parlour are allowed to open from Monday to Saturday from 7am to 6 Pm and to follow the Health Protocol
Restaurants/ Cafes /Food Outlet excluding those located along the National Highways are allowed to open from Monday to Saturday from 9. 00 Am to 6.00 Pm and to strictly comply with the protocol issued by Tourism Department, Government of Meghalaya.
Opening of Hotels in the District with permission obtained from the Deputy Commissioner.
Operation of Weekly markets in West Jaintia Hills District including shops in Iawmusiang area except Border Hats and Markets located in the Inter-State Borders are allowed to open on alternate days from 9.00 AM to 6.00 PM
Other activities both of government and private that are exempted from the prohibitory order:
Food processing units in rural areas identified by General Manager, District Commerce & Industries Centre, Jowai, Mining of limestone and boulder by lease-holders for domestic sale within the State or the Country. Export outside the Country is permitted only through automated, elevated conveyor belts with no human intervention. All agriculture and allied activities, MNREGA works, Veterinary Hospitals, Dispensaries, Clinics, sale and supply of medicine and vaccines
Quarrying of chips, aggregates and sand extracted from legal sources (under MMMCR 2016) and crushed in approved stone crusher unit are allowed for transportation for construction works within the District with PASSES issued by the Divisional Forest Officer (Territorial) West Jaintia Hills District, Jowai.
Construction Activities in Urban Areas as per Government order and Rural Areas are allowed.
Authorized Car Wash Units who have renewed Environment Clearance from Meghalaya State Pollution Control Board, Shillong are also allowed to operate.
Operation of Tea industry including plantation with maximum 50% of workforce for production, processing, packaging and marketing.
Movement of Vehicles carrying Essential Commodities, LPG Cylinders, Security Forces, Medical Equipment along the National Highway. However, Drivers and Attendants of the Vehicles shall be subjected to medical screening as per laid down protocol.
The order has also permitted 50 % Public Transport and private vehicles to operate within the District on rotation basis with a 50 % seating capacity.
Vehicles with odd numbers are allowed to ply on Monday, Wednesday and Friday and vehicles with even numbers on Tuesday, Thursday and Saturday. On Sunday only private vehicles both odd and even are allowed to ply on road.
The order has further stated that maximum number of persons allowed to be carried by different categories of public and private transport in the District is as follows: For Bus total seating capacity is 50% , SUV including Sumo and Maxi Cab 4 persons excluding driver, Light Motor Vehicle (LMV) 2 persons excluding the driver, Auto-rickshaw 1 (One) person excluding the driver, Two-wheeler 1 (One) pillion rider restricted only to female or child below the age of 12 years of the same household.
However, all Government Vehicles (both State and Central), Private Vehicles of Government Officials on duty with Pass issued by respective heads of Department should be prominently displayed on the windscreen. Vehicles carrying Essential Services as: Medical Teams on duty, Fire & Emergency duty, Me.ECL, Power Grid and NEEPCO, Public Works Department (PWD, ) Public Health Engineering Department (PHE), Food & Civil Supply Department including FCI, Jowai Municipal Board, Postal Service, Telecom, Communications and IT, Press, Print & Electronic Media and Banks are exempted from the purview of Odd and Even arrangement
In addition, the District Magistrate has instructed the public to strictly Maintain Social Distancing of at least 1 meter (6 ft), not to overcrowd in one area/shop, to wear face mask, not to spit in public places, to cooperate with the arrangement made by the District Administration, District Police and Headman and to comply to conditions laid down in the Prohibitory Order.
According to the order any person found violating the prohibitory order shall be punishable with fine under Section 51(b) of the Disaster Management Act, 2005