Patharkhmah Civil Sub-Division created in Ribhoi District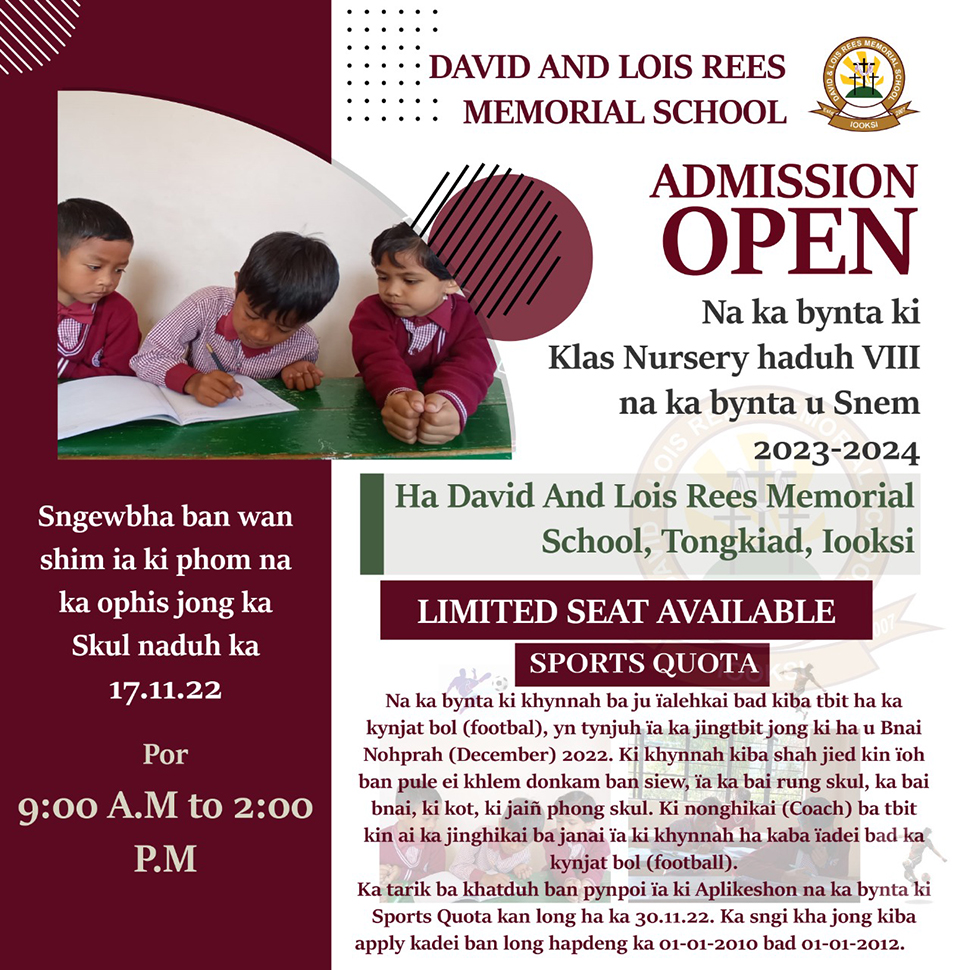 The Government of Meghalaya, notified the upgradation of the Western Ri-Bhoi Administrative Unit to a Civil Sub-Division and christened it as Patharkhmah Civil Sub-Division in Ri-Bhoi District.
The headquarter will be at Patharkhmah and consequent upon its creation, the Civil Sub-Division shall function from its headquarter at Patharkhmah with effect from 24th November, 2022, informed Chief Secretary to the Government of Meghalaya.
Patharkhmah Civil Sub-Division will comprise of the villages of:-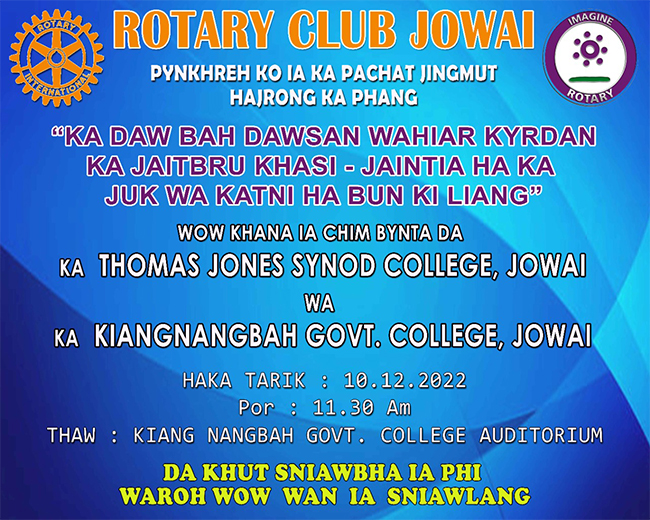 List of villages under Jirang C&RD Block :–
Jirang Syiemship: Jirang Nongbah, Jirang Nonglam, Jirang Nongthymmai, Nongsier, Wahsynon, Umsohpanam, Umlakro, Umiong, Umkremdikhong, Nongrim, Pahamumsaliang, Nongkyllang, Ganpati, Mairampur, Sakurbaria, Pahamumshni, Umsohparew, Sohkunjira, Centre village and Rani (non existing).
Nongspung Syiemship: Bakhlapara, Umsohbar, Warmawsaw, Umtang, Lyngkhung, Jimbrigang, Hawla, Bernongsai, Balakhawa, Akhonijira, Ranibari, Bilpara, Helher and Patgang.
Myriam Syiemship: Nongdommawphlang and Umiapkhla.
Nongkhlaw Syiemship: Umsong, Nongladew, Jalinongkhrit, Nongthymmai, Umsohma, Tasku, Mawtnum, Nongbir, Nongwahmawlein, Sohkyrbam, Sohkyrbamdomphlang, Umkadhor, Umrit, Umyrna, Umsohphria, Umtar, Umlur, Ummar, Umtasen, Patharkhmah, Barigang, Umjyrha, Umkynsier, Lailad, Mawskeithom, Mawskeilum, Bernongsai, Belahari, Mawdem, Rajakhumai, Rajabala, Umsaw, Jalinongtyrlang, Umtyrha (non existing), Mawkuri, Nongkyrlem and Nongkynrih.
Mylliem Syiemship: Koinadhara, Pahamkmiedum, Bara Killing, Chota a Killing, Umtarspunga, Nongspung A, Nongspung B, Nonhimarng C, Haa Patha, Bar Ar, Pilakata, Nonhymmai, Maikrualr, Pathakpgibi, Umsohrna, Pynoke, Pyngke BIA, Umsen, Pahamjula, Gorbhanga, Pilangku, Iewmadam (non existing), Pynker Thymmai, Tamalkushi, Borohuin, Nongkylla Khasi, Byrni, Amjuk, Dermile (non existing), Garobnangi, Nerbung, Rajabagan, Panitula Damsite, Umtrew Colony, Pahamsohbar, Nongthymmai 15th Mile, Ransakuna and Joroir.
New Village: Model Village, Umduba, Umnowe, Amden, Iongkhul, Nengrabil, Lalmati, Billingku, Shibra, Mawiong, Santipur, Langkaduh and Umlathu New Village.
Nongpoh Sirdarship: Nongkylla Mikir, Dehal, Rongbona, Bolium (non existing), Nongkylla (Garo) (non existing), Umdok (non existing), Umdaprukhi (non existing) and Shakoikuna.
New Village: Harlibagan and Lumpyrdong.
Sohiong Lyngdohship: Mawtyngkong, Umtarlat, Dumupaham, Nengtarih, Jalutpaham, Kynthem Nongmalieh, Mawtamur and Thalahar (non existing).
New Villages: Gorbanga Rim, Gorbanga Thymmai, Belpahamjala and Ulubari.