Over 10,000 families in M'laya affected by cyclone

SHILLONG: Over 10,500 households in 700 villages have been affected due to   cyclonic storms that hit the different districts of the state during the past four days.
This was revealed at a high level meeting convened under the chairmanship of the Minister in-charge of Revenue & Disaster Management department Kyrmen Shylla here on Thursday.
Chief Secretary PS Thangkhiew and Commissioner of Division of both Khasi-Jaintia and Garo Hills Division were also present at the meeting to take stock of the situation of each district through video conferencing with the respective deputy commissioners.
As per the initial report received from all the districts, 10,554 households in 700 villages have been affected by the cyclonic storms, which occurred in almost all parts of the state from April 14 – 17.
Besides about 100 school buildings and few community halls have also been damaged. Gratuitous Relief in kinds and also tarpaulins have been distributed to those affected families whose houses have been damaged fully, it said.
It was also informed that so far, 3 persons were reportedly injured under West Garo Hills and medical facilities were provided to them.
Almost all the districts are affected but major damages were reported from Garo Hills Division and few districts from Khasi & Jaintia Hills namely West Khasi Hills, East Jaintia, and West Jaintia Hills.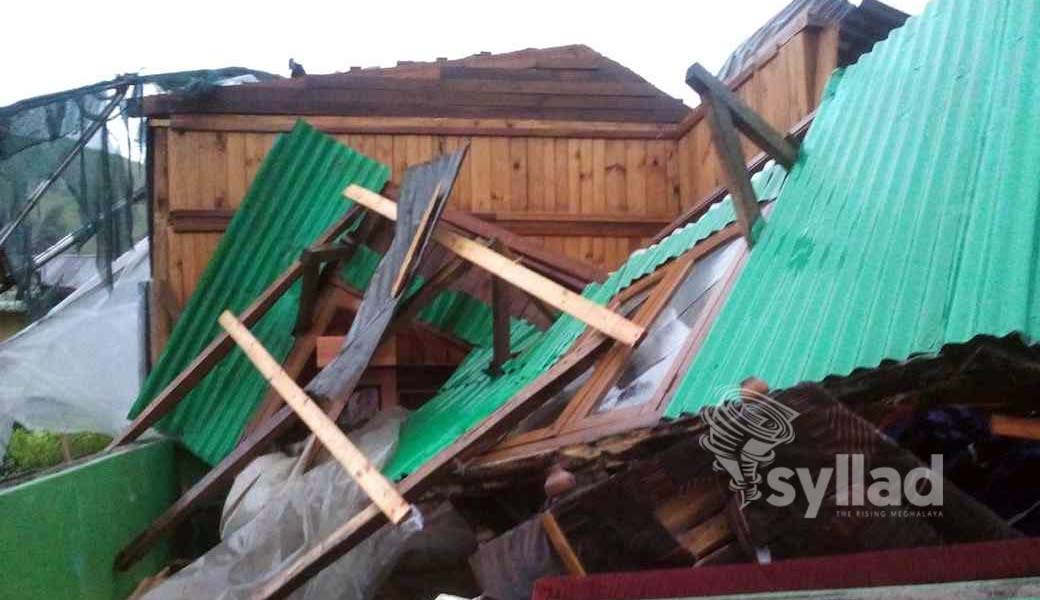 The power supply in some parts of the district namely West Garo Hills, South West Khasi Hills and Ri-Bhoi District has been disrupted which has been restored partially and the department (MePDCL) is putting in all efforts to restore the same.
During the meeting, Shylla has asked all the Deputy Commissioners to be on alert and to gear up all the field level officers to respond effectively also to put in maximum effort to cover all the affected families especially in the far flung areas.
The Chief Secretary then asked all the Deputy Commissioners to submit detailed assessment reports at the earliest and also instructed all the Deputy Commissioners to have contingency plans to meet exigencies and mitigate the grievances of the affected people.