Night Curfew extended in West Jaintia Hills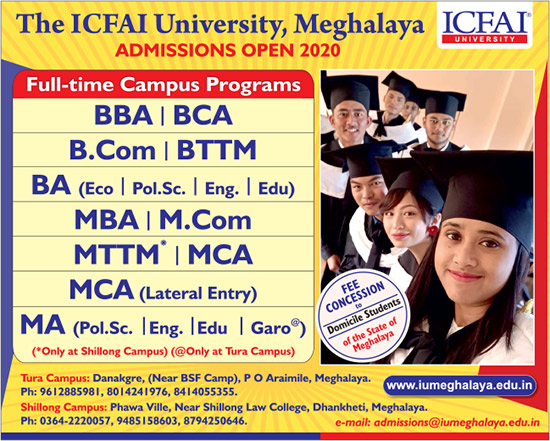 District Magistrate West Jaintia Hills District Garod LSN Dykes has extended the Night Curfew in entire district from August 1 until further order.
The timing of the night curfew will be from 9 pm to 5 am each day.
In his order issued on Saturday, Garod said "The decision was to put in place preventive and mitigation measures, to identify and take more stringent steps so the pandemic of COVID-19 is contained, reduced and eliminated in the district."
The Order will not apply to Security Forces, Medical Teams on duty, Wholesale and Retail Pharmacies, Police and Armed Forces, Fire & Emergency Service, MeECL, NEEPCO & Power Grid, Food and Civil Supply Department, FCI, Public Works Department (PWD),Public Health Engineering (PHE) Department, Jowai Municipal Board, Postal Service, Telecom, Communications & IT Services, Press, Print & Electronic Media, Petrol Pumps,  Essential services including Health Services and online food delivery, authorized workshops and designated spare parts dealerships of Health and Family Welfare Department and   the Government Officials on Duty.
Senior Citizens who are above the age of 60 years are exempted from obtaining PASSES and CURFEW PASSES but they are to carry their valid photo ID card along with them as proof of age while they travel.
The order also exempts movement of vehicles carrying essential goods, security forces, medical equipment and shops for repair of trucks on highways. However, Drivers and attendants of the vehicles shall be subject to medical screening as per laid down protocols.
CURFEW PASSES for timings falling between 9:00 PM to 5:00AM with effect from 1st August, 2020 and until further Orders can be obtained via online application at megedistrict.gov.in/ westjaintiahills.gov.in.
In addition, the District Magistrate had instructed the public to strictly Maintain Social Distancing of at least 1 meter (6 ft), not to overcrowd in one area or shop, to wear mask, not to spit in public places, to cooperate with the arrangement made by the District Administration, District Police and Headman and Compulsory compliance to conditions laid down in CURFEW ORDER Order.
Violation of any advisory will be punishable with fine as under Section 51(b) of the Disaster Management Act, 2005.