More containment areas declared in Shillong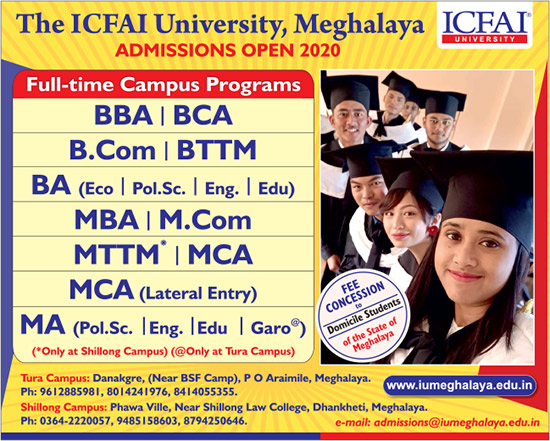 East Khasi Hills district magistrate, Matsiewdor War Nongbri has declared more containment areas in Shillong after detection of positive cases in order to prevent further spread of COVID-19 infection.
The order issued on Saturday informed that COVID-19 positive cases have been detected in the buildings and compounds of Julie Kharmawphlang, Block D, Nongrimmaw, Shillong and Anil Toi, Lower New Colony, Laitumkhrah, Shillong compounds of Abdul Bari and Sanisha Kharlukhi at Mawbah Barapathar, Shillong, Block II of Mawiong Rim from the building of Talas Massar to flower nursery,  Block IV of Mawiong Rim from the building of MR Nongrum to H Marwein and Block IV of Mawiong Rim from the house of G Lyngdoh to the house of S Nongrum, Laitkor Dongdaneng and Laitkor Rngi.
"Due to recent high risk and low risk contacts with COVID-19 positive cases and because vulnerable and affected areas require aggressive contact tracing, quarantine, testing and isolation as well as containment in the interest of the health of the general public against any possible spread of COVID-19, the district magistrate has declared the above mentioned houses, compounds, buildings and places as containment areas to restrict unregulated entry and exit movement on site by the public," it said.
The order states that no person and public are allowed to move into these containment areas and inhabitants within the containment areas also not allowed to move out, besides, all inhabitants within the containment areas are to strictly remain inside their homes.
Gatherings, events, functions whatsoever of any nature and forms including social, political, religious, economic activities are also not allowed.
The order also directed all shopping establishments to close immediately and supply of essential and medical requirements for purchase will be ensured through various teams formed by the district administration.
All Government and private institutions located within the boundaries of these containment areas have also been asked to close down till further orders.
According to the order, concerned Incident Commanders are the supervising officers of these containment areas.
Meanwhile, health workers and essential workers of Shillong Municipal Board, press including electronic, print media, petrol pump and LPG delivery workforce have been exempted from the containment orders.
The district magistrate has further maintained that any violation of the order will entail prosecution under the penal provision of Disaster Management Act, 2005 and I.P.C.