Meghalaya's entrepreneurs get RBI's financial guidance in Thangbuli village
In an effort to connect with Micro Small and Medium Enterprises (MSME) entrepreneurs, the Reserve Bank of India (RBI) in Shillong organized a Town Hall meeting in Thangbuli Village Club Hall in Amlarem, West Jaintia Hills District on September 22. The event was chaired by Navneet Singh Nagar, Deputy General Manager of RBI Shillong, and attended by various dignitaries and stakeholders.
Navneet Singh Nagar, DGM of RBI Shillong underscored the importance of conducting Town Hall meetings in unbanked or underbanked regions, emphasizing the need to raise awareness about banking facilities among entrepreneurs in such areas. The primary objectives included integrating unbanked entrepreneurs into the formal banking system, collecting feedback on their challenges in accessing bank finance and fostering a two-way dialogue between stakeholders.
He emphasized that the Town Hall Meeting provided a unique platform for the Reserve Bank to directly listen to the suggestions, opinions, concerns, and apprehensions of MSME entrepreneurs, with the aim of devising effective strategies for their inclusion in the banking system through credit linkage. This forum aimed to facilitate two-way communication between financial service providers and MSME entrepreneurs to address issues related to financial exclusion.
DV Lyngdoh, ADC, G Sarma, Regional Manager of SBI, and Deepak Singha Roy, Regional Manager of MRB, also addressed the gathering, encouraging entrepreneurs to make the most of the event. Representatives from banks and other financial institutions elaborated on various initiatives designed for MSMEs and the support available to both existing and aspiring entrepreneurs in the state.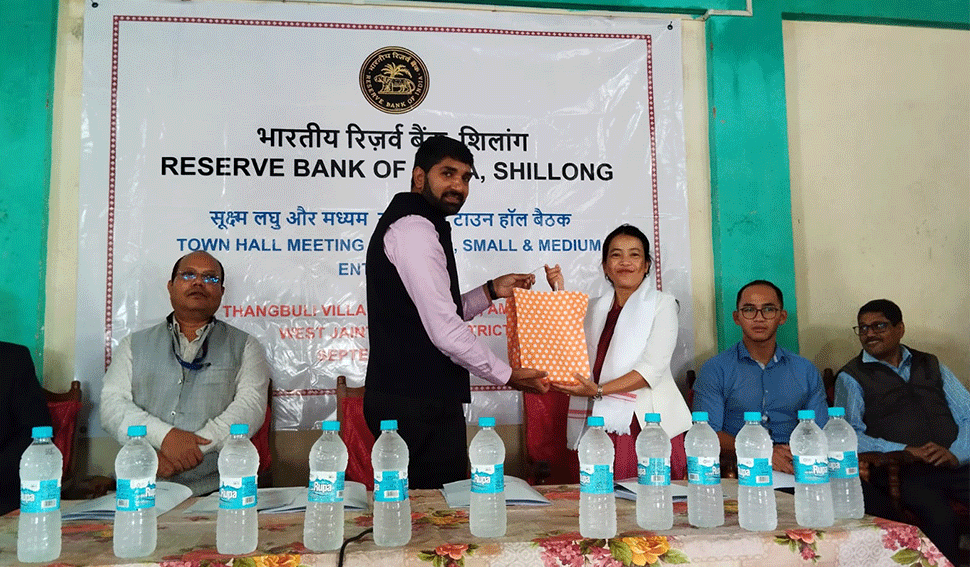 Officials from the Meghalaya Basin Management Agency provided insights into the government's initiatives in Meghalaya. IVCS Sohphoh, recognized as a Cluster under the Sfurti Scheme of the Government of India, shared a success story highlighting the agency's impact.
Trinity Saioo, a Padma Shri awardee, graced the occasion and shared her journey in promoting Lakadong Turmeric across India and abroad. Several entrepreneurs also shared their success stories with the audience. As a tangible demonstration of support, a few entrepreneurs received loan sanction letters during the program.