Meghalaya: Woman dies of COVID-19 after refusing to get admitted in hospital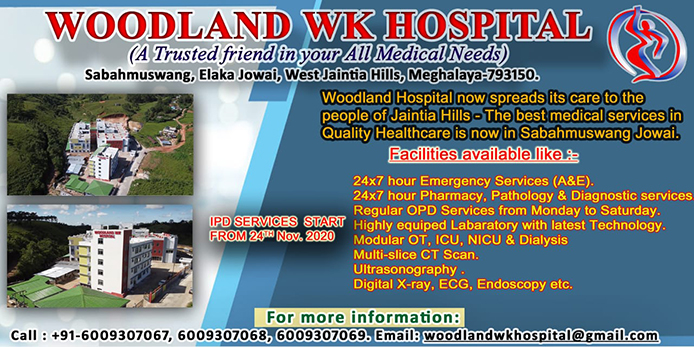 A 55-year-old woman succumbed to COVID-19 taking the total death toll in the state to 103 on Wednesday even as over 10,000 patients have so far recovered from the viral infection.
Subita Saha passed away at her residence at Sepoy Colony, Tura on Tuesday morning. She was diagnosed with COVID-19 pneumonia with severe anaemia, Director of Health Services (MI) Dr Aman War said.
Dr War said the patient had tested positive for COVID-19 at the Holy Cross hospital on November 16, but she refused to get admitted in the hospital.
The state has also detected 79 new positive cases on Wednesday.
These include 52 from East Khasi Hills district, 13 West Garo Hills district, 6 East Jaintia Hills district, 3 East Garo Hills district, 2 North Garo Hills district, 2 West Jaintia Hills district and 1 South West Garo Hills district.
Of 59 persons who recovered from the viral infection, Dr War said 14 are from East Khasi Hills, 14 West Garo Hills, 11 West Jaintia Hills, 10 Ri Bhoi, 5 East Jaintia Hills, 4 North Garo Hills and 1 East Garo Hills.
So far, the state has detected a total of 10,870 COVID-19 out of which 753 are active cases, 10,014 recovered and 103 deaths.
Of the total active cases, East Khasi Hills has 311 positive cases, Ri Bhoi 101, West Garo Hills 106, East Garo Hills 92, South West Garo Hills 32, West Khasi Hills 29, East Jaintia Hills 27, West Jaintia Hills 23, South Garo Hills 21, North Garo Hills 10 and South West Khasi Hills 1.
"Till date, swab samples of 2,24,381 persons have been tested of which 2,13,511 were found negative," the senior medical official said.
There are 59,979 entrants from outside the state.