Meghalaya reports 33 new COVID-19 cases, 39 recovery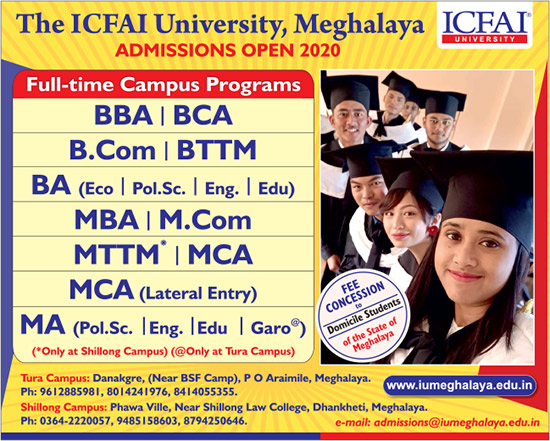 Thirty-three more persons including 4 health workers were tested positive for COVID-19 on Saturday taking the total active cases in the state to 599.
Director of Health Services (MI) Dr Aman War said the 27 new cases are in Shillong, East Khasi Hills, 3 in Ri Bhoi, 1 in West Garo Hills, 1 in East Jaintia Hills and 1 in West Khasi Hills. "We now have a total of 599 active cases in the state," he said.
In Shillong, he said four health workers including staff nurses and a radiology technician were among 7 persons from Shillong Civil Hospital who had contracted the infection. The others include a patient and two attendants.
According to him, these are the high risk contacts of a senior doctor who had earlier tested positive for COVID-19 and is currently undergoing institutional quarantine. In total, 11 persons from Shillong civil hospital have been infected.
Dr War further informed eight are armed forces personnel, seven are returnees, three are BSF troopers and two are high risk contacts of positive patients from the North Eastern Indira Gandhi Regional Institute of Health & Medical Sciences (NEIGRIHMS).
Regarding the cases detected in the other districts, he said two armed forces personnel and a police official are from Ri Bhoi, a vendor at Ladrymbai market in East Jaintia Hills and a returnee from Assam in West Khasi Hills.
The Director further informed that as many as 39 more persons that include 38 BSF jawans and 1 civilian have also recovered from the infection. "With this, a total of 252 patients have recovered so far in the state," Dr War said.
Shillong, the district headquarters of East Khasi Hills as well as the state capital alone has a total of 496 active cases that include 280 BSF troopers, 224 civilians and 54 armed forces personnel.
There are 46 positive cases in Ri Bhoi, 16 in East Jaintia Hills, 16 in West Garo Hills, 5 in West Khasi Hills, 4 in South West Garo Hills and 2 in South Garo Hills while South West Khasi Hills is with zero cases.
With regards to NEIGRIHMS, Dr War informed that the institute has a total of 24 active cases of which 13 are health workers (including a doctor, 6 nurses, technicians and ward attendants) while the rest are patients and their attendants.
Asked, the Director said that it is high time that the citizens of the state should learn to live with COVID-19 and started treating symptoms at home.
"We know this is going to come, we have to take care of ourselves as we have to learn to live with it. With most of the cases in the state so far are asymptomatic (that do not require hospital treatment), there is a need to start treating ourselves at home and treat COVID-19 as any other viral infections," he said.
According to him, mental depression is a cause of worry more than the COVID-19. "We would like to encourage people to quarantine at home to reduce the problem of mental depression," he stated.
Asked, the Director said that the state government is yet to receive any official communication from the Centre in connection with the COVID-19 vaccines.
As of Saturday, a total of 37,728 samples were sent for testing of which 36,341 were found to be negative while test results of 531 are awaited. Meanwhile, a total of 24,344 people have returned to the state till date.