Meghalaya records highest single day spike of 339 COVID-19 cases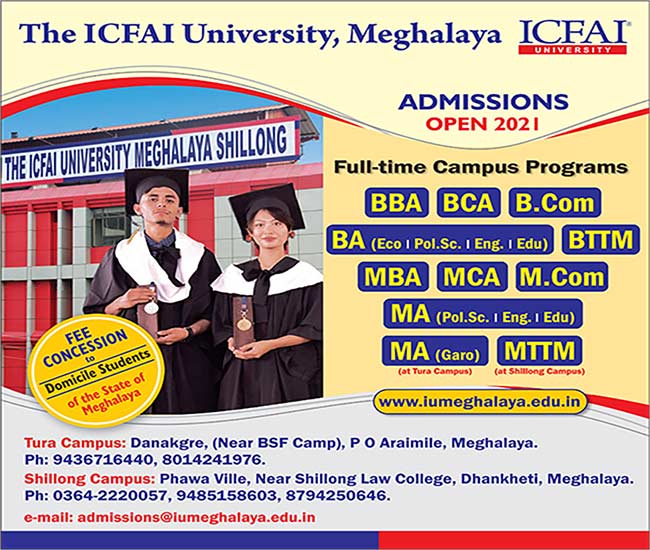 The state has recorded yet another highest single-day spike of 339 COVID-19 cases.
The number of active cases has gone up to 2,019 while 204 recoveries from the viral infection took the number to 15,810 on Tuesday.
Director of Health Services (MI) Dr Aman War said the new cases include 233 in East Khasi Hills district, 40 West Garo Hills district, 24 Ri Bhoi district, 14 East Jaintia Hills district, 10 West Khasi Hills district, 6 West Jaintia Hills district, 4 South West Garo Hills district, 3 South Garo Hills district, 3 North Garo Hills district and 2 South West Khasi Hills district.
Those infected by the virus in East Khasi Hills include 17 paramilitary force personnel, 42 returnees, 8 health workers and 2 police personnel.
He informed that of 204 patients who have recovered from the viral infection, 142 are from East Khasi Hills, 25 East Jaintia Hills, 17 Ri Bhoi, 9 West Jaintia Hills, 7 West Garo Hills and 4 West Khasi Hills.
So far, the state has detected a total of 18,014 COVID-19 cases out of which 2,019 are active cases, 15,810 recovered and 185 deaths.
With 1,298 active COVID-19 cases, East Khasi Hills, that includes state capital Shillong is the worst affected district in the state, followed by Ri Bhoi with 201 cases, 155 West Garo Hills, 97 West Jaintia Hills, 85 East Jaintia Hills, 69 West Khasi Hills, 30 East Garo Hills, 25 South West Khasi Hills, 22 South West Garo Hills, 19 South Garo Hills and 18 North Garo Hills.
On the other hand, of the 4,71,988 persons who have tested for COVID-19 in the state as on date, 4,53,974 were tested negative for the virus even as 426 persons are in institutional quarantine and 1,593 under home quarantine.
There are 1,15,641 entrants from outside the state.