Meghalaya govt declares 10-day containment of state capital, Jowai, Tura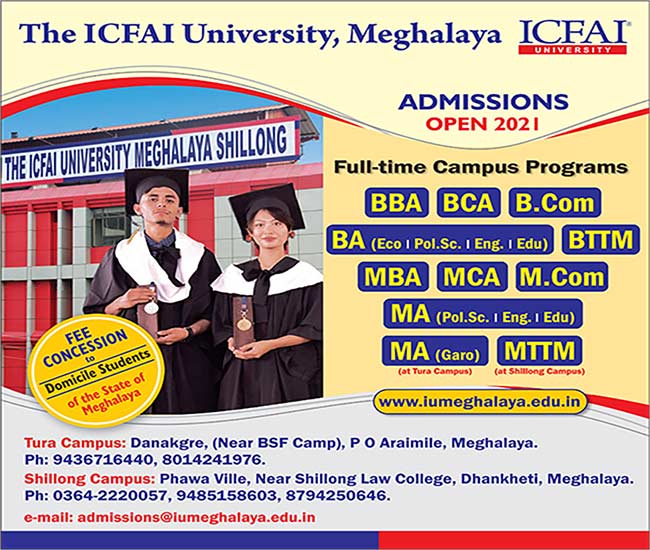 The Meghalaya government on Wednesday declared 10-day containment of the state capital, Jowai and Tura towns from May 1 to 10, to contain the spread of the COVID-19 pandemic. 
The decision was taken after a review meeting chaired by the Chief Minister Conrad K Sangma following surge in the number of the cases due to the highly contagious disease.
Addressing media persons, Deputy Chief Minister Prestone Tynsong said, "The state government has decided to bring Shillong urban agglomeration, Jowai and Tura under containment for 10 days with effect from May 1 to May 10."
He said these are the three places where it is found that the spike of COVID-19 is vulnerable.
Tynsong said during the containment period, all public, political, social and religious gathering are not allowed except weddings and funerals are permitted subjected to adherence to protocols.
All sporting activities are not allowed.
All educational institutions shall remain shut from May 1 to 10. 
All private offices will be shut except those providing essential services.
Non essential central govt institutions are also closed down and they can work from home
All other non-essential movement is discouraged or is stop. Any other movement in emergent in nature may be allowed on issuance of passes from DC and those violating movement protocols will be subjected to pnealy
Public transport reduced 1/4th of the seating capacity. Public transport is being allowed to use for those in need of health care and emergency services, vaccination including students, teachers and staff involved in the conduct of the examination. 
Inter district or intra district movement to or from Shillong urban agglomeration, Jowai or Tura or from containment areas will be restricted except for those who are permitted. Any other travel due to emergency shall be given due permission by DCs concerned. However, it is also advised unless absolutely necessary, movement of persons to Shillong, Jowai and Tura should not be undertaken.
Items allowed during the containment period meaning from May 1 to 10:
Essential shops are allowed to open subject to regulation on days and timing and this responsibility is entrusted to the respective DCs. 
All construction activities are allowed including shops dealing in hardwares, electrical, mobile repair shops, automobile shops subjected to days
Banking services post and telegraph, telecommunication services is also allowed
Essential govt offices will also be allowed as per the regulation made by personnel department 
Movement of only the following is permitted on self-declaration and adherence to protocols: people moving for availing health care services, emergency services and vaccination centre, agriculture and veterinary, transportation of essential commodities, students appearing for examination and teachers and staff related to conduct of examination, goods vehicles including e-commerce services, supply of medicines and home delivery services, accredited print and electronic media,
Persons who are engage in construction, persons travelling on essential duties like medical and officials on covid duty, civil defence, NEEPCO, power grid, FCI, banks, DIPR, post telegram and telecommunication services. All these will be granted as per permission issued by the respective DCs.
The state government has also decided to put restrictions on several activities for the entire state during the period from May 1 to May 10.
All political, public and religious gatherings are not allowed including meetings except weddings funerals are permitted subjected to the permission to be issued by the DCs.
All sporting activities is also closed from May 1 to 10.
International border trade shall also be closed across the state
DCs are authorized to restrict weekly markets and border haats in their respective districts depending upon the local situation.
Govt has also authorized all concerned DCs to close or take action relating to educational institutions in their respective districts when and if the case arises or situation so demand.