Meghalaya: 172 more tests positive for COVID-19, tally at 1,818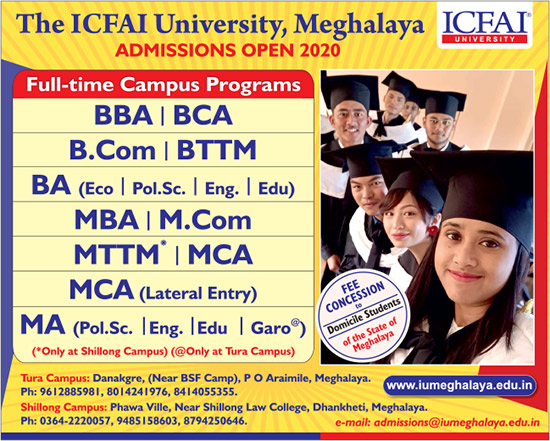 One hundred and seventy-two more persons have tested positive for COVID-19 on Tuesday, taking the total active cases in the state to 1,818.
Director of Health Services (MI), Dr Aman War informed that 74, including 53 civilians and 21 armed forces/ paramilitary forces (AF/PF) personnel were detected from East Khasi Hills district, 61 from East Jaintia Hills district, 23 from Ri Bhoi district, 9 from West Garo Hills district, 2 from South West Garo Hills district, 1 each from South Garo HIlls district and North Garo Hills district.
He said four health workers, including a doctor at Ganesh Das hospital, staff nurse at Woodland, a lab technician in the office District Medical & Health Officer (DMHO) and drivers, 42 high risk caases, 21 AF/PF personnel, 4 returnees, and 3 SARI cases were also among the new cases detected today in East Khasi Hills while the 61 cases in East Jaintia Hills are all from the Star Cement cluster.

Dr War said 39 more patients have recovered from the viral infection. These include 24 from West Garo Hills, 10 from East Khasi Hills, 3 from East Jaintia Hills, 1 from Ri Bhoi and 1 from South Garo Hills.
So far, the state has recorded a total of 4,037 positive cases of which 1,818 are active, 2,190 recovered and 29 deaths.
East Khasi Hills has a total of 1,187 cases that include 927 civilians and 260 AF-PF personnel, followed by East Jaintia Hills with 203 cases, 183 in West Garo Hills, 152 in Ri Bhoi, 20 in South Garo Hills, 17 in East Garo Hills, 14 each in WEst Khasi Hills and West Jaintia Hills, 13 in North Garo HIlls, 10 in South West Garo Hills and 5 from South West Khasi Hills.
Till date, a total of 1,17,580 samples have been tested out of which 1,13,184 were negative while test results of 298 are awaited. There are 36,570 entrants from outside the state.