Legal literacy campaign on POCSO Act held in East Jaintia Hills District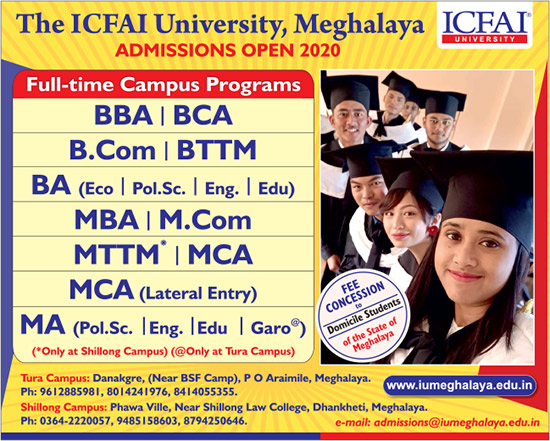 The Meghalaya State Legal Services Authority in collaboration with the Department of Justice, Ministry of Law and Justice, Government of India today organized a Legal Literacy Campaign on Protection of Children from Sexual Offences, POCSO Act, 2012 under access to Justice for North East and Jammu Kashmir Project, Meghalaya.
The awareness programme was held in two village of East Jaintia Hills District, Cham Cham and Mukhaialong.
Albert Lyngdoh, Coordinator in his welcome address said that the programmes were being organized to sensitize the public about the legal services and schemes and to ensure proper justice delivery system to all the citizens especially people in the villages. He urged the gathering to approach the District Legal Services Authority at Khliehriat for matter relating to offences against children and women so that necessary action will be taken regarding the matter. 

District Session Judge, East Jaintia Hills District, G. Ranee in her speech stated that the Protection of Children from Sexual Offences, POCSO Act 2012 protects children (minor) under 18 years of age from sexual offences. She informed that there are many registered cases under the POCSO Act in the district.  "No one has the right to harm or offend a child under 18 years of age" she said. She urged the parents and teachers in school to take proper care, to monitor their children and their behavior, to not discriminate them in case they face any such offences and to report the matter to the police station so that legal action can be taken against the offender.
Furthermore, she informed that the Special Court (POCSO) can grant compensation under the POCSO Act and victims of other offences can claim compensation through the DLSA. She also said that the compensation can be claimed by filing an application of compensation to the DLSA office. She also briefed about compensations in cases of murder, accidents or any other offences.
T.T.M Sangma, Secretary District Legal Services Authority (DLSA), Khliehriat spoke about the functions and responsibilities of the District Legal Services Authority. "The responsibilities of the DLSA is to give free legal aid and to create awareness on various laws in the country", he said.
He informed that under 39(a) of the Constitution of India free legal aid is ensured and stated that under section 12 of the National Legal Service Authority Act 1987, among others all Scheduled Tribes, Scheduled Caste, women and economically challenged are entitled to free legal aid. The DLSA aims at providing the citizens free Legal aid for Civil or Criminal cases including other matters such as bank related matters etc", he added.
Others who spoke included E. Shylla, Advocate, who gave a presentation on the POCSO Act, 2012 and B.M Sangma, Judicial Magistrate First Class, who spoke about the Juvenile Justice (Care and Protection of Children) Act 2015. 
It may also be mentioned that this week long awareness programme will be also be conducted in different parts of the District in the coming days.