Kiang Nangbah Government College marks 57th Foundation Day with enthusiasm

Kiang Nangbah Government College celebrated its 57th foundation day on Friday. The event brought together all the faculty, including teaching and non-teaching staff, as well as students in the auditorium hall, who celebrated the day with great enthusiasm.
Dr. SR Lyndem, Resources Consultant of RUSA, expressed gratitude to the college for the acknowledgment they conferred upon him. Lyndem praised the college for reaching new heights by offering a 4-Year Integrated Teacher Education Programme (ITEP) Course, including B.A. B.Ed. and B.Sc. B.Ed., in this session.
He emphasized that no other college in the state has achieved what Kiang Nangbah Government College has. The college has surpassed the NAAC criteria and standards. He posed the question of who would assess the college now, as it offers ITEP programs that go beyond NAAC parameters.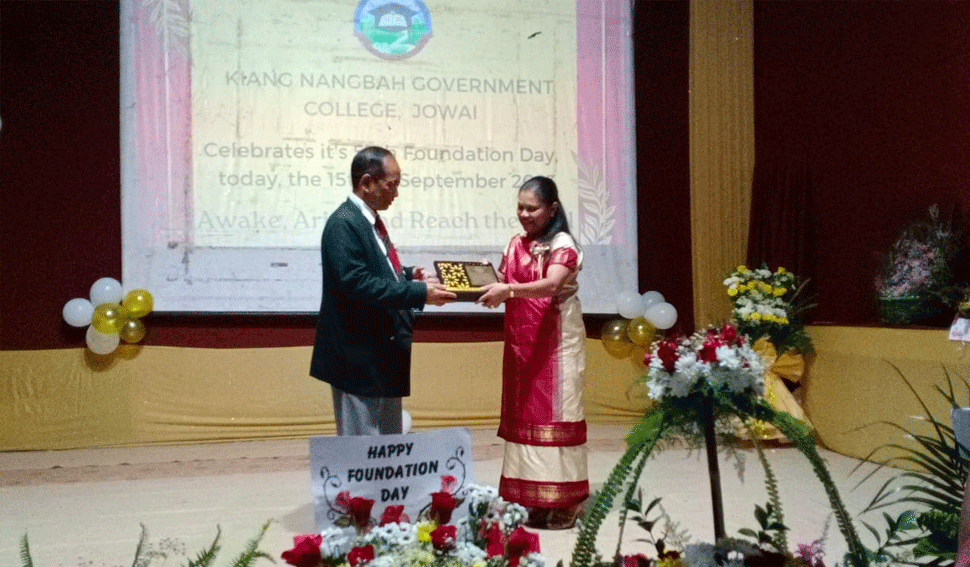 Lyndem remarked, "I have witnessed the problems and challenges faced by educational institutions in the state, and Kiang Nangbah Government College deserves an A++ rating because if A+ is standing in front of you, they stand nowhere. It's time to celebrate, give thanks to God, and acknowledge the teachers and students."
He urged teachers and students to be assets to the institution rather than liabilities.
Other who speak includes JP Sharma, IQAC Coordinator, Dr. EM Blah, principal of the college who thanked the college's founder, the dedicated teaching staff who have moulded and shaped the students, and the Education Department of the Government of Meghalaya for their continued support in infrastructure development.
The day's highlights included the felicitation to JP Sharma for his 25 years of service at the college, criterion leaders and students who achieved top ranks in Mathematics and Botany. The event also featured songs and dances performed by students, making the occasion truly grand.