Khot wer ka AJCA iaki kynhun sha ka Open to All Cricket League 2022 ha bnai Rymphang ka U-15 & U-19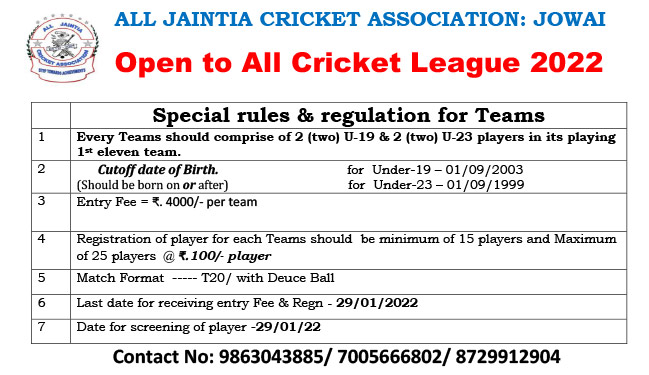 Ka All Jaintia Cricket Association (AJCA) ka khot wer iaki khynun ban wan iashimbynta haka Open to All Cricket League 2022 ka ban sa long shen ha u bnai Lber jong une u snem.
Ka AJCA kala pynbna ruh ba ka lympung ialehkai U-15 bad U-19 kan long ha u bnai Rymphang 2022.
Ka AJCA kala iathuh ba haka Open to All Cricket League ki don ha katto katne ki kyndon ba ki kynhun ki hap ban bud ryntih. Baroh ki kynhun kiba iashimbynta ki hap ban kynthup mar ar ngut ki nongialehkai U-19 bad U-23 haka thup jong ki 11 ngut ki nongialehkai ban iashimbynta haka jingialehkai.
Ka jingot snem kalong ba iaki Under-19 – 01/09/2003 bad Under-23 – 01/09/1999. Ka bai rung ka long T. 4000/- shi kynhun bad ka T.100 uwei u nongialehkai.
Kawei ka kynhun ka dei ban don ym duna iaka 15 ngut ki nongialehkai bad ba bun eh dei 25 ngut ki nongialehkai la shah ha kawei ka kynhun.
Ka jingialehkai yn pyniakhun da haka dur jong ka T20 bad da ka Deuce Ball.
Ka tarik ba khatduh ban pynpoi bai entry bad registration kalong 29/01/2022 kaba dei ka sngi ban jurip ne screening artad iaki nongialehkai.
Ia ki jingtip ba khambniah phone ha kine ki number: 9863043885/ 7005666802/ 8729912904.