Jowai MCH Hospital inaugurated without appointment of medical officers
The Jowai Maternal & Child Health Hospital is inaugurated on Saturday with full pomp and gaitey but the newly inaugurated hospital will function with skeleton doctors and staffs for Meghalaya Government went ahead with the inauguration without appointment of medical officers and senior medical officers to impress the people of Jaintia Hills region.
The inauguration of the MCH Hospital without the requisite appointment of doctors and nurses authenticated that the inauguration was speed up only to spare sitting NPP MLA Wailadmiki Shylla from embarrassment during seeking re-election in 2023.
According to an official brief write up during the inaugural programme, "at present manpower, particularly Doctors/MOs and SMOs have to be appointed at the earliest for the smooth running of the Hospital."
Further the two Pediatrician and two OBG Specialists posted at Jowai Civil Hospital in Ialong will be transfer to MCH Hospital.
The supporting staff nurses and the other categories of staff presently working in Jowai Civil Hospital lalong will now be deputed to MCH Hospital.
The Jowai Civil Hospital which is 100 bedded is already facing shortage of nurses but now some nurses will be posted to MCH Hospital.
Inaugurating the MCH Hospital at PWD Compound Ladthadlaboh, Jowai, Chief Minister Conrad K Sangma said during the last 1 year itself the Govt added 80 health facilities over 200 health facilities with solar power and energy efficient equipment.
Stating close to Rs 250 crores has been spent on different infrastructure work in the health sector, Sangma informed Rs 150 crore was earmarked for the construction of 300 sub centre and Rs 12.5 crore for 10 integrated public health laboratory and Rs 47 crore has been added for 100 more bedded hospital.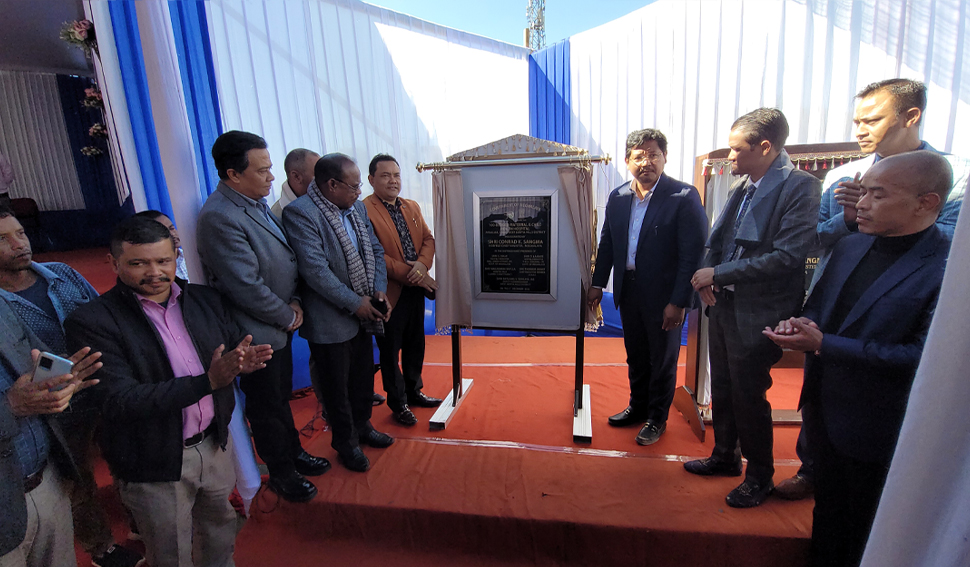 He said that Meghalaya stands at number fourth in term of the highest budget spent on health sector in entire country.
The Chief Minister informed every effort wil be made to ensure that all facilitates full man power and whatever equipments required will be provided to ensure that the MCH Hospital will function with 100 percent efficiency.
Sangma said that the Government has come out separate recruitment board for the health sector specially for doctors and specialists.
In the next few month all this doctor we expect that through this medical recruitment board all the positions for doctor and specialists will be filled up, he added.
Urban Minister Sniawbhalang Dhar and Jowai MLA Wailadmiki Shylla also spoke on the occasion.