Isawanda Laloo urges farmers to embrace Millet cultivation for better nutrition
The Department of Agriculture & Farmers' Welfare today organized a Workshop cum Exhibition of the International Year of Millets on the theme 'Millets for Nutritional Security' at All Saints Hall, Shillong. Isawanda Laloo, Secretary, Department of Agriculture & Farmers' Welfare graced the occasion as the chief guest.
Speaking on the occasion, Isawanda Laloo said that after the green revolution the farmers focused diligently on rice and wheat, whereas millets being the most efficient crop and a 'super-food' which requires minimum efforts was neglected. She urged the farmers to learn and explore its nutritional values and to popularize millet cultivation. She further added that the government is making an effort to categorize millets as a 'mission crop' and also encouraged the entrepreneurs and farmers to increase the millets cultivation, thereby it will eventually improve their livelihood and income flow.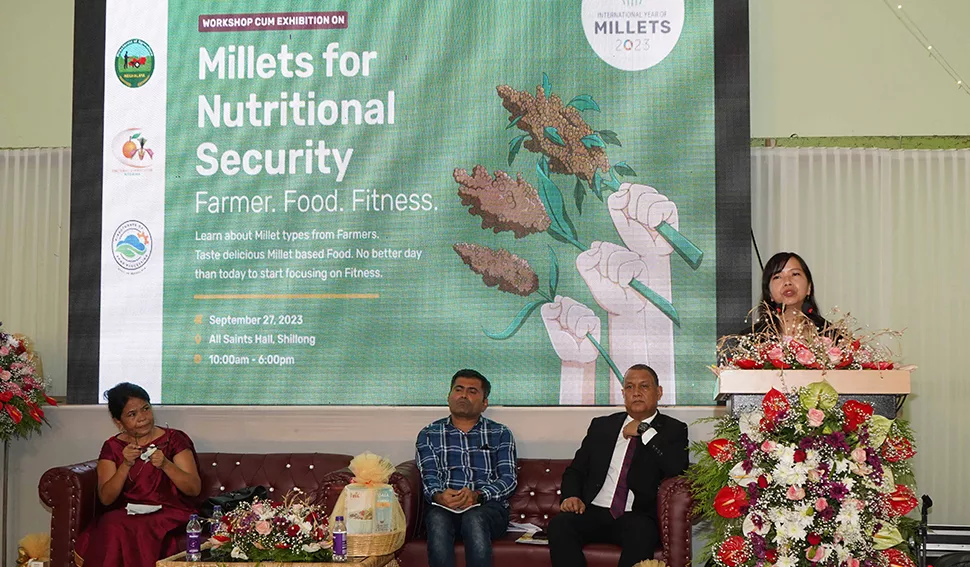 Progressive millets farmers from across the state were felicitated by the chief guest during the programme.
Later, the chief guest along with other dignitaries visited the various stalls showcasing millet produce.