Five households declared as containment areas in Shillong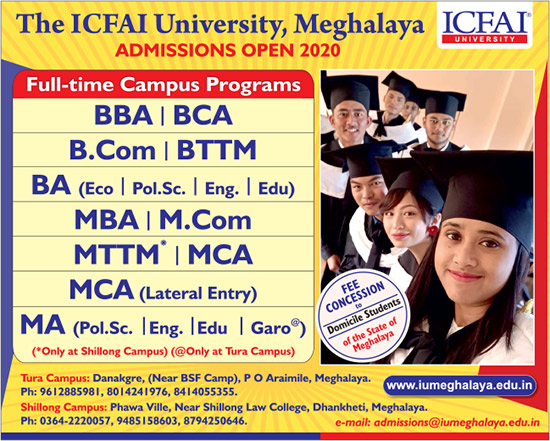 Due to the detection of positive COVlD-19 cases in 5 households, the District Magistrate, East Khasi Hills District has placed the areas and buildings as containment areas to contain the spread of COVID-19.
These households and buildings are at lane near Shiv Mandir, Block-2 of Pynthorbah, houses of Rohan Chettri, Smti Laxmi Mizar, Shri Guttam Rai, Smti Sony Joshi and Savitry Thapa of Dong Kamon Nongmynsong, entire lane from Bhogee Chaudary laundry to the bridge near Bilco School, Pynthorbah, entire lane leading to the Saint Nanak School lane, Pynthorbah, buildings of Kristina Kharkongor, Pansngiat Syiem, Armillian Syiem and Syrpailin Kharir of Circle – I of Mawpat and buildings of Baleisha Pyngrope and Pulsylinda Marbaniang of Circle – III of Mawpat.
"There has been recent high risk and low risk contact with COVID-19 positive cases and because vulnerable and affected areas and buildings require aggressive contact tracing, quarantine, testing and isolation as well as containment in the interest of the health of the general public against any possible spread of COVID-19," the District Magistrate, East Khasi Hills District said in her order on Sunday.
The District Magistrate, East Khasi Hills restrict unregulated entry and exit movement on site.
The order states that no person and public are allowed to move into these containment areas and inhabitants within the containment areas also not allowed to move out, besides, all inhabitants within the containment areas must strictly remain inside their homes.
Gatherings, events, functions whatsoever of any nature and forms including social, political, religious, economic activities are not allowed.
All shopping establishments shall be closed immediately and supply of essential and medical requirements for purchase will be ensured through various teams formed by the District Administration.
All Government and private institutions located within the boundary of the containment areas are to close forthwith, till further orders.
According to the order, concerned Incident Commanders are the Supervising Officers of these Containment areas.
The order, however, will not apply to health workers and essential workers of Shillong Municipal Board, press including electronic and print media and petrol pumps.
The order for indentified buildings of Circle I and III of Mawpat said that to ensure proper enforcement of this containment there will be no entry for vehicular movement and closure of all shops and market place in Mawpat from Shaw Shaw, in front of Mawpat Block Office to Mot, Circle I taxi stand.
The order also states that any violation of the order will entail prosecution under the penal provision of Disaster Management Act, 2005 and IPC.