East Khasi Hills extends Corona Night Curfew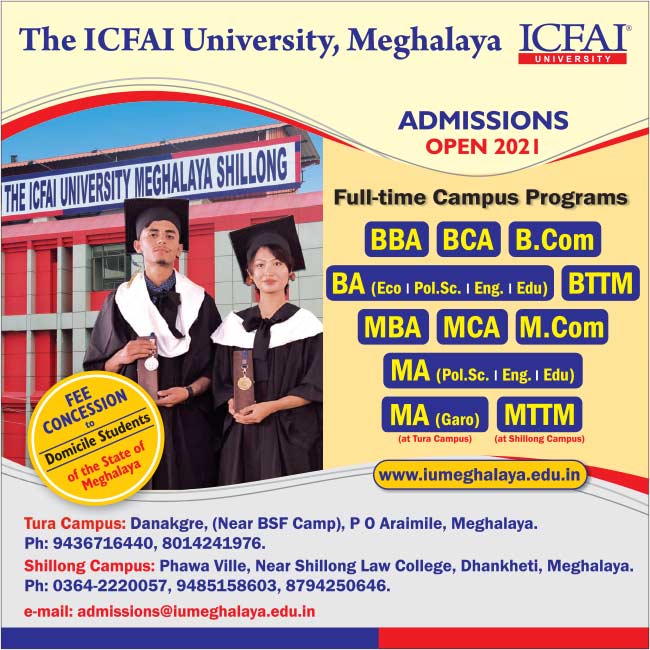 East Khasi Hills district administration has extended the Corona Night Curfew in the district from August 2 till further orders, as part of the containment measures to prevent the uncontrollable surge in the number of COVID-19 cases.
Night Curfew will start from 7:00 PM sharp to 5:00 AM daily and there shall be total ban on movement during this time. Any unauthorized movement during curfew hours will be met with penalties.
Total Curfew will be promulgated on Sundays. Non-essential movement shall not be permitted on Sundays, Isawanda Laloo said in her order issued on Saturday.
The decision to continue with the containment measures was taken after observing that the number of COVID-19 cases in the district is still very high and that the positivity rate is above 10 percent.
Political, public, social and religious gatherings including conferences, meetings & trainings and weddings are not permitted.
Funeral gatherings should be restricted to 10 persons only, with prior permission from this office.
Inter-District movement as well as movement to and from Shillong Urban Agglomeration is not permitted without valid passes. Private vehicles plying without passes will be liable for penalties.
Opening of essential and non essential commercial establishments/shops/malls/other economic activities is permitted and will be regulated. All shops are required to indicate vaccination status of their staff in the shop premises.
In-Situ construction activities in East Khasi Hills are permitted with due permission from this office and the Sub Divisional Officers (C)/Block Development Officers concerned. However, other construction activities requiring movement of skilled manpower or labourers will be permitted only upon due application and permission from this office.
Home delivery/Takeaway services, e-commerce activities and courier services are permitted and will be regulated.
Central Government offices and State Government offices are permitted to function at 30% strength. Essential Departments of the State Department shall function at strength as decided by the Administrative heads.
All Banks and Post offices are permitted to open with limited staff. Banks shall close by 4:00 PM and Post offices shall close by 2:00 PM.
Agricultural activities and MGNREGA activities are permitted. Efforts should be made to complete vaccination of all concerned.
International border trade is permitted and will be regulated by the Sub Divisional Officers (C) concerned with approval by the undersigned.
Private offices are permitted to open thrice a week for emergent works, with due permission from this office. They shall submit the application including the number of employees and their vaccination status to this office at [email protected] for permission.
Saloons and Beauty Parlours are permitted to open, subject to strict compliance to the Protocols.
Public Transport in East Khasi Hills will be permitted at 30% for urban and 50 % for rural areas and will be regulated. Vaccination status of the driver should be clearly indicated in the vehicle.
Offices of Colleges are permitted to open between Monday to Friday at 30% strength, with due permission from this office. Number of employees and their vaccination status is required to be furnished to [email protected].
Offices of Schools may be permitted to open three times a week, at 30% strength. LP and UP Schools will give intimation to the Sub Divisional School Education Officer, East Khasi Hills District regarding the number of staff and their vaccination status while Secondary & Higher Secondary Schools will give similar intimation to the District School Education Officer, East Khasi Hills District. All protocols are to be strictly followed.
Non-contact sports (Archery, Shooting, Cycling, Fencing and Athletics) and Semi-Contact Sports (Golf, Lawn Tennis and Badminton) as defined by Sports and Youth Affairs Department are permitted, subject to adherence to SOPs laid out and an Undertaking for strict compliance to protocols is to be submitted to this office. Competitive games with spectators are not allowed.
Gymnasium/Yoga Institutes/Fitness Centre are permitted to re-open as per protocols dated 1st March, 2021 issued by the Ministry of Health and Family Welfare. They shall apply for prior permission to the Incident Commander concerned, and furnish details of number of staff and vaccination status of all employees. The SDO (C) and BDOs concerned will regulate opening of the same in their respective jurisdictions.
Exemptions:
Health services including emergency services and vaccination.
Medicines and Pharmaceuticals.
Movement of essential goods.
Movement for medical emergencies.
Persons travelling on Essential Government duty viz.,
Medical Teams and officials on COVID-19 Duty.
Police, Security and Armed Forces
Civil Defence and Home Guards.
Fire & Emergency Services.
Electricity.
Water Supply.
Municipal Services.
Public Distribution System.
Information and Public Relations.
Telecommunication services.
Print & Electronic Media.
NARI/ 1917iTEAMS.
Petrol pumps.
LPG Distributors.
Essential Veterinary services including feed and fodder movement for livestock for farmers.