Cong term govt's decision to appoint new CMD, MeECL as "eye-wash"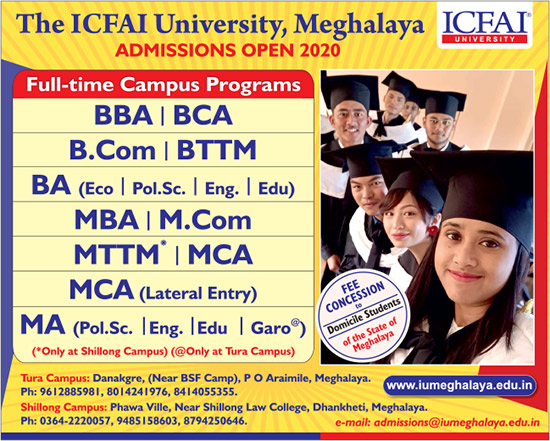 The opposition Congress has alleged that the state government's decision to appoint another junior officer as the new Chairman-cum-Managing Director (CMD) of the Meghalaya Energy Corporation Limited (MeECL) is an "eye-wash" so that they can pressurize the latter to work at their behest.   
This came after IAS officer, Arunkumar Kembhavi has recently replaced MCS officer, A Nikhla as CMD of the MeECL following demand from the opposition party as well as the MeECL -Joint Action Committee (JAC).
"It is just an eye wash, (as) the government has replaced the earlier CMD, who is a junior officer, with another junior officer, who is the additional secretary (to the government)…," AICC secretary and party spokesperson, Zenith Sangma told reporters on Wednesday.

Questioning the logic behind this decision, Zenith said, "How does it (appointment of a junior officer) help? It has convinced me to think that this is nothing but to be able to pressurize the officer to work at the behest of the people in power or the political bosses in the government…"
The Rangsakona MLA reiterated that officer not below the rank of an additional chief secretary or the chief secretary used to be appointed as the CMD of the MeECL. "Now, the government of the day has created precedence where any Tom, Dick and Harry can become a CMD."
Sangma also expressed discontentment against the state government's attitude towards addressing the issues related to the management of the MeECL.
He said interestingly, the present CMD is also the Director of Corporate Affairs, MeECL, Additional Secretary of Mining and Geology and Commissioner of Taxes.
"On one hand he (Kembhavi) is a very junior officer, on the other hand he is overburden by too many responsibilities so how can it humanly be possible for him to give justice to his responsibilities," he said.
Stating that he is not against any officer or undermining their capabilities, the Congress leader however said, "But the way the government is dealing with this issue implies that they want to make the officer work at their behest."
He said the MeECL is in a mess due to the lack of knowledge and experience of the leadership.
Zenith further slammed the Chief Minister, Conrad K Sangma for being tight-lip on the allegations of mismanagement and corrupt practices in the MeECL.
"Even after a month's gap, the CM has not responded to the allegations made by me and neither the power minister," he said adding, opposition has always been constructive and is pointing out the loopholes to draw the attention of the government for rectification.