Cherry Blossom Festival cancelled following the killing of 5 Pnar people in Mukroh along Assam-Meghalaya Border & internet suspended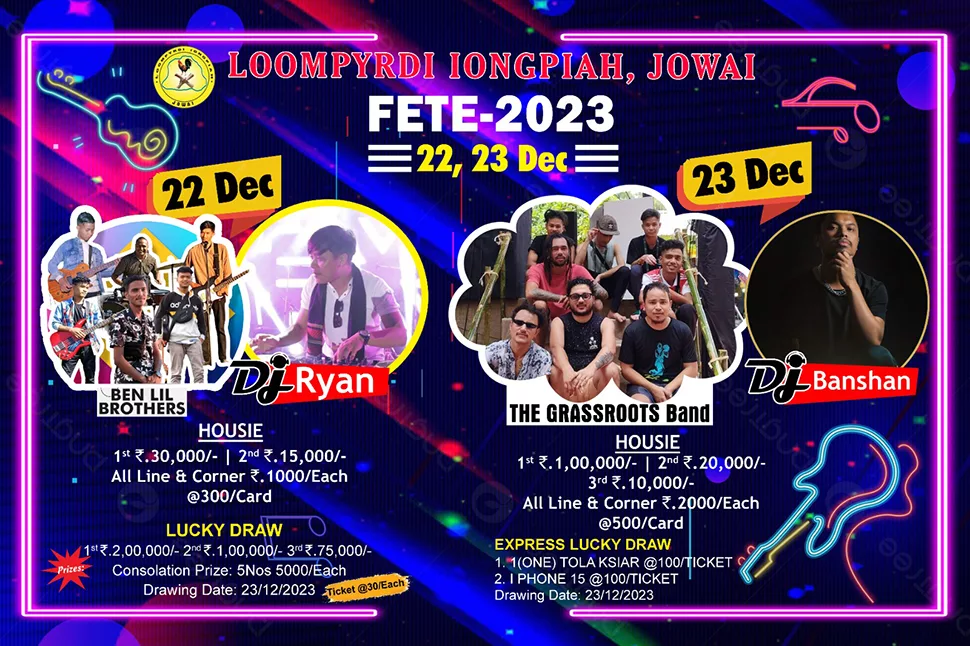 In an unfortunate incident, five Pnar residents and one Assam forest guard were killed in firing by Police personnel and Forest Personnel of Assam at Lumpalang, Mukroh West Jaintia Hills District about 12 kilometers from Mukoilum Village/Block-I under West Karbi Anglong Police District, Assam.
The incident occurred after a truck carrying timber speed away toward Mukroh village despite direction to stop by Assam Forest Personnel at Mukoilum area and the Assam Forest personnel managed to catch hold of the truck at Lumpalang at around 1.30 am by firing at the tyre of the truck.
Meanwhile, three residents of Mukroh Village namely Damon Bhoi, Peitlang Sumer bad Bud Sumer who were travelling in a Maruti Car (ML-04C 6996) and they were transporting paddy were just behind the truck were also detained by the Assam Forest personnel and the Assam police who also joined them. Damon Bhoi, Peitlang Sumer bad Bud Sumer were taken to Mukoilum OP.
Following their detention, the three said residents informed the Waheh Chnong of Mukroh of the incident and he made public announcement asking all residents to rush to Lumpalang to rescue their fellow residents detained by Assam Forest personnel. The crowds swelled up to over hundred numbers and the Assam forest and police personnel were caught in amongst the crowd. While trying to escape from the angered crowd, the Assam forest and police personnel opened fire at the crowd and also ran away towards Mukoilum and in the process three Pnar and one forest guard were killed on the spot and four injured.
The Pnar killed on the spot were identified as Thar Shadap (48), Si Dhar (65) and Six Talang (55) besides one Forest Guard while Tang Nartiang (40) succumbed to his injuries at Barato PHC and Chirup Sumer (40) succumbed to his injuries at Woodland W K Hospital, Sabahmuswang. Two other persons who were injured were identified as Elias Samayang and Sheini Nartiang were admitted at Civil Hospital, Jowai while the doctors have referred them to NEIGRIHMS. Home Minister Lakmen Rymbui, DC and SP WJHD and a fleet of NGOs leaders also rushed to spot.
The angered crowd torched the Mahindra Bolero Pick Up used by Assam Forest personnel and also torched the Assam Forest Check Gate at Khlieh Sanaro, Mukroh.
Damon Bhoi, Peitlang Sumer bad Bud Sumer were released after the intervention of the DC WJHD & SP WJHD who went and met their counterpart in Moikoilum OP.
Meanwhile, Chief Minister Conrad K Sangma condemned the Assam police and forest guards for entering Meghalaya and resorted to unprovoked firing leading to killing of precious lives.
Sangma announced ex-gratia of Rs 5 lakh each to the next of kin of the deceased victims and also informed the government's decision to suspended all official programme till November 30 next and all the festivals including the ongoing Cherry Blossom Festival will be cancelled to show solidarity to all people who loss of lives.
A meeting with all stakeholders including traditional heads, church leaders and members of civil society organizations was also convened to ensure law and order is maintained in the state.
After the meeting, Sangma appealed to the citizens of the state to maintain peace and harmony in the state. The state government is taking all steps necessary to ensure that law and order is maintained in the state," he said.
He said he had called different leaders from traditional institutions, religious groups and different members of civil society and NGOs to discuss, to appeal, to inform and to ask them that "we need to stand together in these difficult times as a state and as citizens".
When asked, the chief minister said, "Yes I have spoken to the Assam chief minister this morning and I briefed him about the incident and he is also aware about the incident and our discussion was very brief. He has assured whatever can be done from the Assam government side and whatever cooperation that is required for any kind of steps to be taken or any inquiry to be done he will be there and he will support."
He said there is no dispute in the Mukroh village and in fact the place where the incident happened was well within Meghalaya.  
On the suspension of mobile internet, Sangma said based on the necessary SOPs, the government has taken certain steps to ensure that law and order is maintained in the state.