AITC releases election manifesto: Abhishek assures party to implement 10 pledges within 100 days of forming the Govt in Meghalaya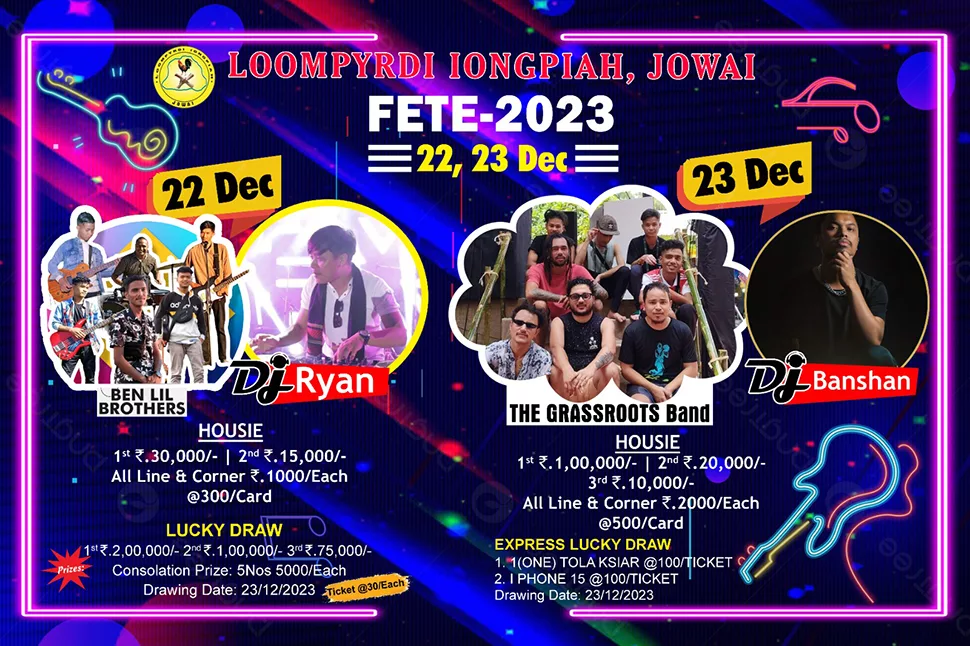 The opposition All India Trinamool Congress (AITC) on Tuesday assured to implement its 10 pledges within 100 days of forming the government in Meghalaya.
The election manifesto was released by the AITC national general secretary Abhishek Banerjee at a function held at Pinewood Hotel in presence of state president Charles Pyngrope, legislature party leader Mukul Sangma, vice president George Pyngrope, Leader of AITC Parliamentary Party in Rajya Sabha Derek O'Brien, State-In-Charge Manas Bhunia and others.
The AITC has pledged to provide abundant opportunities and thriving economy, a bright future, empowering women, society security for all, happy farmers, holistic health care, quality education, robust civil amenities, state's glory and honouring traditional institutions & sacred land.
"We will ensure that every pledge is being executed and honored within 100 days of forming the government. This is my word to everyone…," Abhishek said while addressing the gathering.
He said, "We have been hearing about the double engine model but we are the only party who walks the talk. The pledges that TMC made before the Bengal elections were fulfilled within three months."
Abhishek said, "TMC is the only party in Meghalaya especially in the state's political fray to present its manifesto after the elections are announced but the irony is a party and the people who labeled us as outsiders are yet to come out with their manifesto and vision document because they neither have the vision for Meghalaya, neither they have the mission for Meghalaya."
He said, "During the last five years, the government which has been running the state and boasting and bragging about their double-engine model is the most inefficient, incompetence and inept government the country has ever seen."
Stating that his party pledge to honour the traditional institutions and sacred land, the AITC leader said, "The Border MoU signed with the Government of Assam to be revoked, and police check-posts at all strategic border areas to be set up."
"This will address the issue of unwarranted surrender of land to Assam and protect the residents in border villages. A fresh set of consultations will be initiated to find a sustainable solution to the border crisis," he added.
He said the party will also ensure effective and immediate implementation of the Meghalaya Residents Safety and Security Act (MRSSA), 2016 across the state to ensure a comprehensive registry of all legal tenants.
"(We will also move) a private member bill in the Union Parliament for the immediate recognition of the Khasi and Garo languages through their inclusion in the 8th Schedule of the Constitution," he said while adding that the party will also introduce a holistic Village Administration Bill in consultation with the ADCs and traditional headmen to uphold and protect the traditional institutions.
The AITC said it will ensure double-digit economic growth in the next 5 years to double the GDP size and ensure a poverty-free Meghalaya.
4,000 new MSMEs to be added annually which is 4 times the current annual growth to increase the number of functional MSMEs to 1.3 lakh units in the next 5 years.
It further assured that mining will be resumed by formulating a scientific and sustainable mining policy to ensure no individual's livelihood is endangered adding the policy will ensure only legal mines are operative in the state.
The party assured to provide over 3 lakh jobs in the next 5 years and allowance of Rs 1,000 monthly (Rs 12,000 yearly) to every unemployed youth between the ages of 21 – 40 under Meghalaya Youth Empowerment (MYE) Scheme.
"1 lakh laptops will also be given to all higher secondary and college-going students in the state to facilitate digital education. All individuals engaged in the tourism sector to be identified and their services to be formalized through government registered job cards providing a monthly honorarium of Rs 2,500," it said.
The manifesto said that the party will provide a direct transfer of Rs 1,000 per month (Rs 12,000 yearly) to a woman of every household as guaranteed universal income support under the Meghalaya Financial Inclusion for Women Empowerment (MFI WE) Scheme in order to empower the women folks of the state.
The party also assured society security for all by increasing all social welfare pensions to Rs 1,000 per month (Rs 12,000 annually), doubling the financial assistance to PWD, single mothers, widows and senior citizens.
A society security scheme, Meghalaya UNITE (Meghalaya Unorganized Sector Training and Empowerment scheme) for all the 2.8 lakh unorganized sector workers to provide them skill training, free healthcare, term life insurance, and provident fund benefits.
25% increase in grants for healthcare, education assistance, death benefit, marriage assistance and disability pension to workers under the Meghalaya Building and Construction Workers' Welfare Board.
E-ration cards for all and resurvey in all districts to increase the number beneficiaries covered ensuring every deserving household receives the PDS benefit, it said. It said that essential items in the ration kits to be increased from 4 to 8 (potato, chickpeas, cooking oil and salt to be included).
The party also assured to introduce the Farmers' Assistance for Rural Meghalaya (FARM) scheme which will provide Rs 10,000 annual financial assistance to all farmers in the state.
The party will set up FARM centres in all districts of the state for one stop assistance to farmers from production to sales besides implementing FARM crop insurance policy covering all crops (including horticulture crops) to ensure zero loss to farmers.
Further, the party assured to provide Maternal and Child Care Centres in every block to ensure efficient prenatal and postnatal services and to make all PHCs and CHCs in the state 100% functional.
The AITC also pledged to establish new medical colleges and ensuring quality tertiary healthcare facilities across the state.
It also assured 25% increase in healthcare cover for senior citizens under Meghalaya Health Insurance Scheme (MHIS),60 medical shops, 1 in each block, to be set up to provide all medicines at a 20% subsidy.
The opposition also assured to ensure Direct Benefit Transfers of Rs 1,200 annually to the families of all school going children registered in government-run schools to cover the cost of books and allied material.
It said that each block to have a model school, immediate upgradation of school infrastructure in all districts and doubling the number of seats for teacher training in the state.
Promising robust civic amenities for residents, the opposition party assured to facilitate piped drinking water connections to all households, revival and overhaul of all MeECL to create resilient infrastructure for uninterrupted power supply to all households.
"All 6,459 villages in Meghalaya to be connected with black topped motorable roads and upgradation of major arterial roads to all-weather roads," it said. It said that the Shillong Ring Road Project (connecting the Eastern and Western Bypass) to be completed on mission mode to ease the persistent traffic snarls in the city.
Meanwhile, the AITC has also pledged to set up the state's first Sports University and a corpus of Rs 10 crores to assist the 22 registered State Sports Associations and all recognized sports clubs under them.
It will also implement a Mission Sports to identify, train and promote talent at the block level. Each district to set up a state-of-the-art multi-purpose stadium.
The manifesto said that the party will also set up the Meghalaya Music Promotion Board to promote the state's musicians through training and assistance with the vision of taking the local music to be global stage.
"Establishment of a cultural tourism circuit through identification and promotion of cultural and ecological hotspots in every district. Interest free loans of up to Rs 2 lakhs will be provided to local communities to set up homestays and conduct other sustainable tourism activities," it said.