Ai jinghikai ka Moolamylliang SCC iaki samla halor ka jingshitom jingmut ki samla
Ka Moolamylliang Social and Cultural Club ryngkat ka jingiatreilang ka Dorbar Shnong Moolamylliang bad ka ophis u Deputy Commissioner East Jaintia Hills District kala pynlong iaka seminar ba shi sngi halor ka Phang "Growing Depression on the Youth" haka 20 tarik une u bnai.
Ki riewshemphang ha kane ka sngi ki kynthupa iaka Nidahun P Swer, Community Nurse, District Mental Health Program(DMHP), East Jaintia Hills bad u Rev RK Sutnga, Sutnga Presbyterian Church.
Ka kong Nidahun P Swer kala ai jinghikai halor ka phang ka jingduh jingkyrmen ka lah ban wan rah iaka jingbthah jubor ki samla iala ka jong ka jingim.
Ha kane ka jingai jinghikai ka kong Swer kala kyntu ia ki samla kiba don ka jingshitom jingmut bad sngewsih ba ki dei ban wan shakhmat bad kim dei ban buhrieh ne set kut halade ia kaei kaba jia iaki bad ban iathuh ha ki kmie ki kpa khnang ban ioh ia iasyllok ban phah sumar ialade ha ki counseling centre.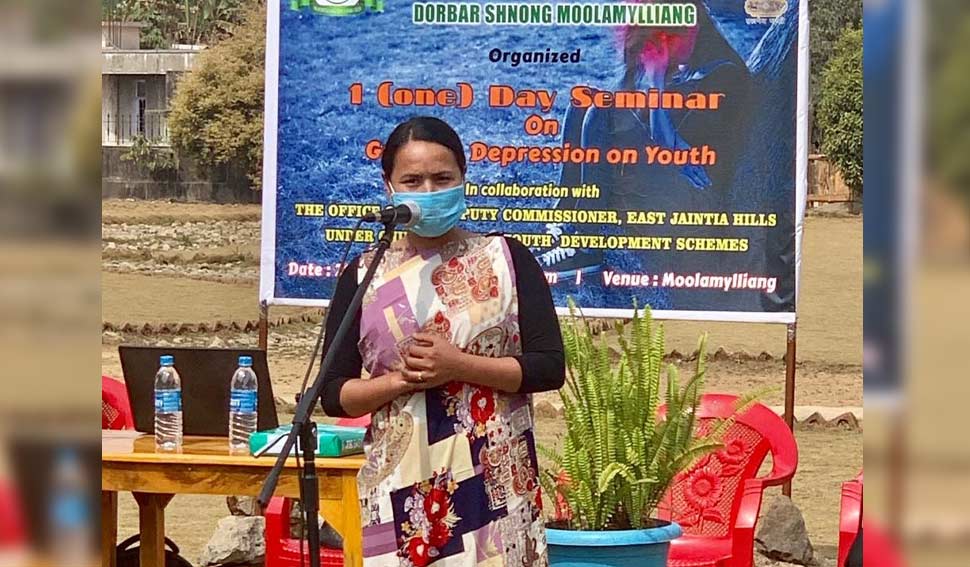 "Ki kmie ki kpa kim dei ban pynbor than iaki khun ban leh kano kano ka kam kaba kim lah satia ban leh namar kane jingpynbor ka lah ban wanrah iaka jingkhuslai ha ka jingim jong ki khun ki kti," la ong ka Kong Swer bad ban ailad iaki khun ban pyrkhat bad ban puson iaka jingsngewtynnad jong ki kynthup haka pule pule khnang ba kin jop haka jingim.
U Pastor Rieweh Sutnga ula hikai shaphang ka jingshah ialam bakla ki samla ha ka Social media ne khubor paidbah kaba pynlong ia ki ban noh mynsiem bad duh jingkyrmen haka jingim. La syllok ruh bad ki samla halor ka jingshitom ne diaw mynsiem ban ai jingiada na ka jingduh jingkyrmen ha ka jingim.