21 BSF troopers among 51 new COVID-19 cases in Meghalaya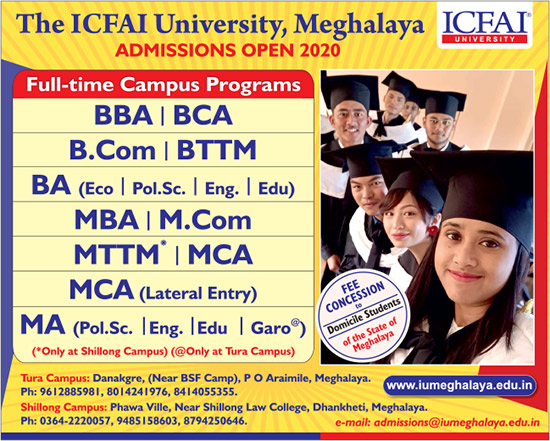 Fifty-one more persons, including 21 Border Security Force (BSF) troopers and 3 health workers, tested positive for COVID-19 on Thursday, taking the tally of active cases in the state to 640.
Director of Health Services (MI) Dr Aman War told reporters that of the 51 new cases, 19 were from Ri Bhoi district, 17 from East Khasi Hills district, 14 from West Garo Hills district and 1 from West Jaintia Hills district.
In Shillong, the district headquarters of East Khasi Hills, Dr War said the 17 cases include 3 health workers – a pharmacist and ward boy at the Shillong civil hospital and a ward boy at NEIGRIHMS hospital, 7 BSF troopers, 3 armed forces personnel, a traffic police, who was a contact of a positive case in East Jaintia Hills, a tea vendor at Khyndailad and a returnee from Bihar.

He said the 19 cases detected in Ri Bhoi district include 15 armed forces personnel, 3 returnees from Arunachal Pradesh, Tamil Nadu and Jharkhand, and 1 from the Byrnihat cluster, while 14 cases in West Garo Hills are all BSF troopers who returned from different parts of the country and the case in West Jaintia Hills is a child of a positive patient.
Out of the 640 active cases in the state, Dr War informed that East Khasi Hills has 498 cases which include 243 civilians, 194 BSF troopers and 61 armed forces personnel.
Ri Bhoi district has 70 cases, 29 in West Garo Hills, 17 in West Jaintia Hills, 17 in East Jaintia Hills, 2 in South West Garo Hills and 2 in South Garo Hills.
Dr War also informed that 6 COVID-19 patients recovered today which includes five civilians and 1 BSF jawan taking the total number of recoveries to 345 in the state so far.
Asked, the Director informed that the vendor had gone to Woodland hospital for medical check up and she was referred to Nazareth hospital, which collected her samples and sent for testing at the NEIGRIHMS hospital.
"The district surveillance unit is on full swing to trace all her contacts," he said.
As of Thursday, a total of 39,782 samples have been tested of which 38,412 were found to be negative while test results of 380 are awaited. There are 25,767 entrants from outside to the state till date.
Meanwhile, the state has registered a total of 990 COVID-19 positive cases while five have died so far.