Meghalaya: 18 including a doctor at NEIGRIHMS tested COVID-19 positive, tally rises to 605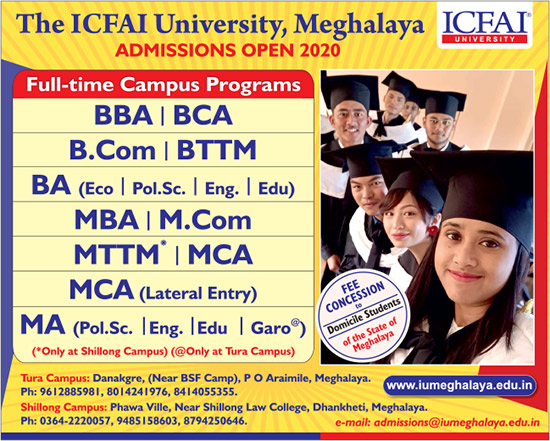 Eighteen more persons, including a doctor from the North Eastern Indira Gandhi Regional Institute of Health & Medical Sciences (NEIGRIHMS), have been tested positive for COVID-19 on Sunday, taking the total active cases in the state to 605.
Director of Health Services (MI), Dr Aman War told reportes that 18 new cases include 13 from East Khasi Hills including five Border Security Force (BSF) troopers, four civilians, 3 armed forces personnel, and 1 returnee from Delhi, four from Ri Bhoi including 3 returnees from Bihar and Assam and 1 civilian and 1 SARI (severe acute respiratory infection) case from East Jaintia Hills, who has been admitted in a hospital at Jowai for treatment.
Dr War informed that another doctor from NEIGRIHMS was also among those tested positive for the virus.
"He s an anesthesiologist who works in the COVID-19 ward of the premier health institute and is doing well," he said.
It may be mentioned a total of seven doctors in the state have so far contracted the infection including one death.
Out of the total 605 active positive cases in the state, Dr War informed that East Khasi Hills has 497 cases which include 230 BSF personnel, 227 civilians and 57 Armed Forces personnel.
There are 50 cases in Ri Bhoi, 17 in East Jaintia Hils, 16 in West Garo Hills, 14 in West Jaintia Hills, 4 in South West Garo Hills and 2 in South Garo Hills.
The Director further informed that 12 more patients which includes 10 BSF troopers and two civilians have also recovered today, taking the total number of recoveries to 264 in the state so far.
Asked, Dr War said that the health authorities in the state are not only preparing for the second wave but all the waves.
"We want to ensure that we are prepared to deal with the situation as it comes," he said.
The Director also informed that the health department would also conducted an inspection to the BSF camp, once the containment order is lifted.
With the sudden increase of cases from the armed forces, he said that the matter related to armed forces personnel especially them visiting market and public places will also be taken up with the government.