Matric topper lauded Meghalaya Govt for organizing Aspire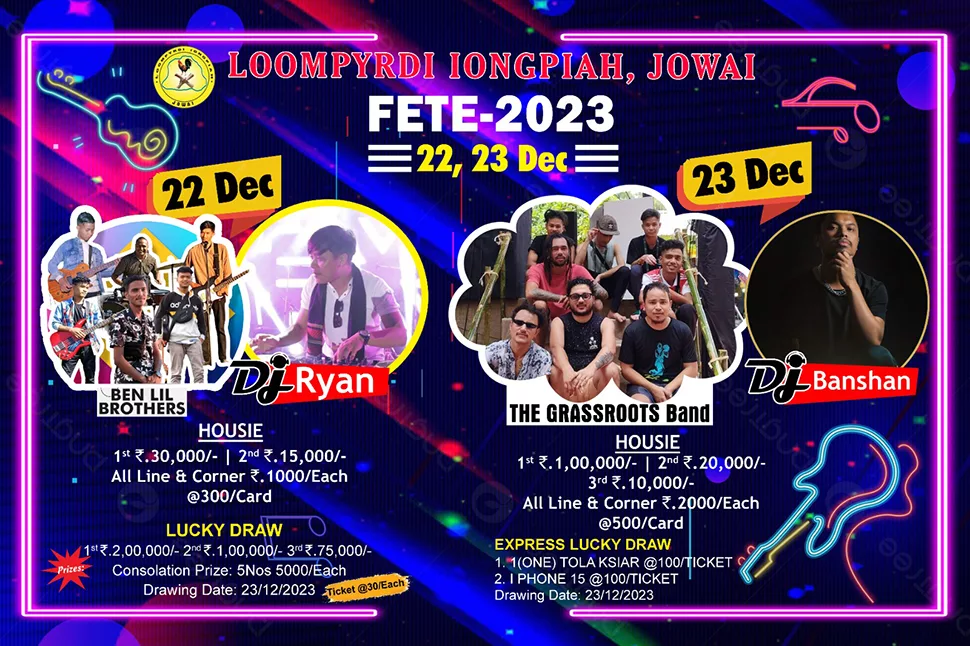 The Meghalaya Youth Engagement and Training Programmes were launched on 14th March across districts, commencing with the Meghalaya @ 50 Youth Survey, which aims to capture the voice of the youth and gather insights needed by the State to develop better youth development strategies that take inspiration from the sentiments and aspirations of the youth.
The programme is an initiative of the Department of Sports and Youth Affairs, Government of Meghalaya, and supported by Education Department's Directorate of School Education and Literacy (DSEL). The programme is being implemented by Meghalaya-based Social Enterprise, AVENUES. This exercise is the State's largest ever on ground Youth Engagement, marking Meghalaya's 50th year of Statehood and is the first of its kind in Northeast India.
Aspire Meghalaya 2.0 is a flagship initiative under the Meghalaya Youth Engagement and Training Programmes, aimed at building aspirations, career readiness and life preparedness in youth. To mark the beginning of its first phase, orientation programmes were held simultaneously across districts that saw the participation of over 290 campuses, represented by over 550 teachers, in order to help them drive the Youth Survey on ground across 12 districts for a projected respondent base of 50,000 adolescent youths.
Chief Minister Conrad K Sangma launched Aspire Meghalaya 2.0, along with a series of interventions for citizens across the State, at an event held on 8th March 2022 in Shillong, to mark the Meghalaya Democratic Alliance (MDA) Government's 4th year milestone.
The 10 domains featured in the survey are Culture & Tradition; Education & Skills Development; Sports, Talents & Careers; Financial Awareness & Entrepreneurship; Inclusion, Engagement & Leadership; Gender Equality; Quality of Life; Health & Wellbeing; Cyber Citizenship and Environment.
Minister of Sports & Youth Affairs Banteidor Lyngdoh, Under Secretary, Department of Sports and Youth Affairs, Shivansh Awasthi, (IAS) flagged off the East Khasi Hills District event in Shillong. Some of the dignitaries present at the launch events across districts include Dr. Vijay Kumar D (IAS), Commissioner & Secretary, Department of Sports & Youth Affairs, Shri. Ram Singh (IAS), Deputy Commissioner, West Garo Hills District, and district officials of the Sports and Education Department.
Also present at the March 8 event in Shillong was one of the Aspire Meghalaya 2019 participants, Kevinstrong Lawriniang, 1st Position holder in MBOSE SSLC 2021, who delivered a moving speech saying, "When we face challenges, we must not look for unhealthy alternatives, but we must face them head on with a brave heart. That is what Aspire Meghalaya has taught me."
"Many of us are in a state of confusion in not knowing what to do with our lives. We do not have clear goals and are unsure of the paths we want to take. Aspire helps provide the clarity and encouragement we need to set life goals that are close to our hearts," he added.
The youth survey will be followed by two critical phases of Aspire Meghalaya – Soft Skills and Life Preparedness Training for 10,000 youths across 50+ campuses, and Career Exploration and Talent Discovery Platforms that will recognise 200+ State Stars and Top 10 Talents of the State. The programme aims to impart common minimum soft skills, recognise talent and identify skill gaps in the pursuit of meaningful livelihoods for adolescents and young adults across districts.