Meghalaya: 159 more tests positive for COVID-19, tally rises to 1,902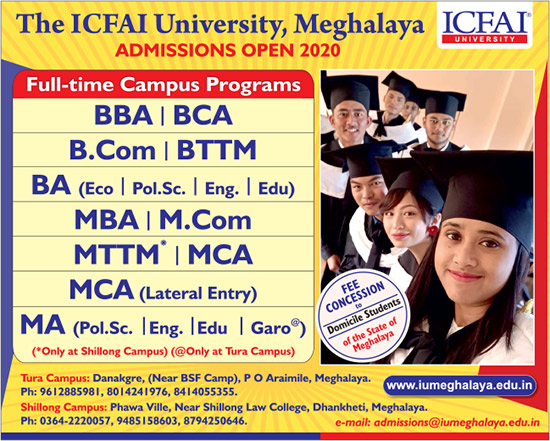 159 more persons have been tested positive for COVID-19 on Wednesday taking the total active cases in the state to 1,902. 
Director of Health Services (MI), Dr Aman War said 106, including two health workers, 9 armed forces/paramilitary forces (AF/PF) personnel, 93 high risk contacts, 1 returnee and 1 ILI case, were detected from East Khasi Hills district.
The other cases include 33 from Star Cement cluster, 1 from Lumshnong in East Jaintia Hills distrct (34), 7 high risk contact and 1 returnee from Ri Bhoi district (8), 4 AF/PF personnel and 2 high risk cases in West Garo Hills district (6), 1 health worker and 1 high risk in West Khasi Hills district (2), 1 returnee and 1 high risk case in South West Khasi Hills district (2) and 1 high risk in East Garo Hills district.

Dr War said a total of 204 persons have been tested positive for COVID-19 from the Star Cement cluster while one more case (who is a high risk contact of a driver) was also detected from the Chief Minister's official residence.
Asked, the senior medical officer admitted that there is shortage of testing centres in the state.
"The government has therefore, authorized us to appoint more microbiologists so that we can increase the number of testing machines in the state," Dr War said.
He said 74 more persons have been recovered on Wednesday. These include 40 from East Khasi Hills, 15 from East Garo Hills, 12 from West Garo HIlls, 4 from West Khasi Hills, 2 from South Garo Hills and 1 from North Garo Hills.
So far, the state has recorded a total of 4,195 positive cases of which 1,902 are active, 2,264 recovered while 29 have died due to the viral infection.
East Khasi Hills has a total of 1,252 cases of which 1,008 civilians and 244 AF/PF personnel, 237 in East Jaintia Hills 160 in Ri Bhoi, 127 in West Garo Hills, 18 in South Garo Hills, 14 in West Jaintia Hills, 12 each in West Khasi Hills and North Garo HIlls, 11 in South West Garo HIlls and 3 in East Garo HIlls.
Till date, a total of 1,20,576 samples have been tested of which 1,15,611 were found to be negative while test results of 770 are awaited. There are 37,080 entrants from outside the state.